Budget Home Makeover Tips
by Chad Harwood-Jones on Oct 26, 2022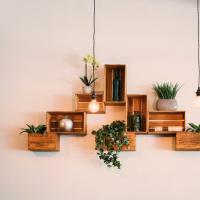 With the current state of the economy, many of us are tightening our belts and diverting our discretionary income elsewhere. But just because you're on a budget doesn't mean you have to live in a drab, dated home. Here are a few budget-friendly tips to help you breathe new life into your space without breaking the bank.
Start with a fresh coat of paint
This is one of the most inexpensive ways to completely change the look and feel of your home. A recent coat of paint can make even the most tired room feel fresh and new again. When choosing a color scheme, try to stay within a limited palette so that everything coordinates well. If you're not sure what colors to choose, ask for color samples from your local hardware store before committing to anything.
Play around with wall art
Wall art is an easy way to transform the look of any room and, luckily, there are lots of affordable options out there these days. Take some time to browse home stores and online retailers to find pieces that speak to you.
Don't be afraid to get creative. Frame old family photos, children's artwork, or even pretty fabric scraps to create one-of-a-kind wall art on a budget. You can use a picture rail system to easily and inexpensively change out your wall art as often as you like. Without the need for holes in your walls, it's also a rental-friendly way to display your artwork.
Incorporate some easy (and inexpensive) DIY projects
One of the best things about DIY projects is that they don't have to be expensive to make a big impact. Try adding some new hardware to your cabinets or changing out the light fixtures in your rooms. You can also add a fresh coat of paint to tired furniture pieces or re-cover chairs and couches with new fabric. Pinterest is a great resource for finding creative DIY ideas, so be sure to check it out for some inspiration.
Bring in some fresh flowers or plants
Nothing adds life to a room quite like some fresh greenery - and it doesn't have to cost a lot, either. A trip to your local farmers market or grocery store should do the trick, and you can always find some inexpensive pots or vases at your local pound shop. Even better yet, paint some old pots you have lying around and use them to display your new plants. Just be sure to water your plants regularly so they keep their vibrant color.
Update your light fixtures
Old, outdated light fixtures can really date a space. Fortunately, they're easy (and relatively inexpensive) to replace. Swapping out an old fixture for something more modern can instantly transform any room in your home. For an even bigger impact, try installing dimmer switches so you can create different moods and atmospheres as desired. Consider your light bulbs too, as LED bulbs are also a great way to save on your energy bill in the long run.
Add some new throw pillows and/or blankets
Throw pillows and blankets are a great way to add some personality to any room - and they can be easily swapped out as your taste evolves. If you're unsure where to start, try looking for pillows in colors that coordinate with your existing decor. Or, for a more eclectic look, mix and match different patterns and textures. Fleece blankets are also a great option for adding some extra warmth to any room — just be sure to choose ones that are machine-washable so they're easy to care for.
Rearrange your furniture
Buying new furniture isn't always an option if you're on a tight budget. But that doesn't mean you're stuck with what you have. Sometimes, all it takes is rearranging your existing furniture to create an entirely new look and feel in any room. The best part is, it won't cost you a thing! So go ahead and move those pieces around until you find a layout that feels right, you might be surprised at what a difference it makes. Why not get inspired by Feng Shui principles and see how they can help you create a more peaceful and harmonious home?
As you can see, there are many easy and affordable ways to update the look of your home without spending a lot of money. By experimenting with different ideas, you're sure to find something that suits your taste and budget. So get creative and have fun with it!