3 Types of Basket Storage You Cannot Live Without
by Guest Post on Aug 2, 2013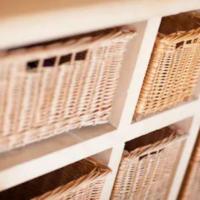 When it comes to organizing your home, you have a lot of different storage options. Everything from crates and barrels to enormous bags and boxes abounds. The key to effective storage is not just grabbing the first container available though. By selecting the right type of storage you can significantly control the amount of visible clutter in your home. There are three types of basket storage that you cannot live without if you want a well-organized space.
Fiber Baskets
A fiber basket is any basket made of natural materials. It is the most common type of basket and can be found everywhere from craft supply stores to high-end home decorating shops. Natural fiber baskets come in every conceivable size, shape, and design. If you want to have a place to organize your keys and cell phone by the entryway, consider a hanging fiber basket by the door. Old magazines piled on the coffee table causing too much clutter. Add an under-the-table basket to hide the magazines from sight, but keep them in easy reach. Fiber baskets offer a unique appeal because they can be formal or informal and match any decor.
Fabric Baskets
It was not long ago that fabric baskets were the newest and hottest thing in home storage. While their novelty of them may have worn off, their usefulness remains. Fabric baskets are especially good to use in hall linen closets, for children's room storage, and for bookshelf containers. They are flexible, which makes them ideal for fitting into tight spaces. They are also normally a cube, which makes them ideal for square shelves and for lining up on children's closet floors. Fabric baskets come in all types of fabric styles. They can be found in sophisticated paisley prints as readily as they can be found in solid pinks or blues. Whatever your decor, there are fabric baskets to match.
Plastic Baskets
Have a difficult time organizing your toiletries and shower supplies? The best option is to invest in a small, shower-size plastic basket that can organize your items right where you need them. These plastic baskets with side drainage holes are also ideal for the kitchen, as they can keep your dish soap, sponge, scouring pad, and other dish supplies close at hand while also making the space neat and tidy. For areas where there is a chance of moisture, plastic baskets cannot be beaten. They are easy to clean, easy to sanitize, and, in most cases, ideal for water-prone places. Use them in laundry rooms and garages to keep laundry accessories and garage tools easily contained.
While traditional fiber baskets may be what immediately comes to mind when you think about basket storage, other options work just as well for their particular uses. Adding these types of containers to your home's organization system will keep the house looking and feeling more comfortable and uncluttered.