Tired of Your Old Office? Revive it with New Furniture!
by Guest Post on May 2, 2013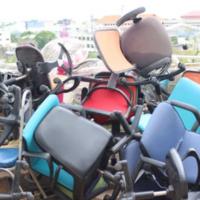 Why Update Your Office
If you work at home, then you may not have invested in your office furniture and surroundings for some time. This can have a demotivating effect on your output and also potentially damage your health if you are using outdated and broken office equipment, particularly chairs. It is essential to have a working and functional kit to preserve the health of your back and neck, especially if you work a sedentary job.
Office Chairs
Office chairs are crucial to back health and it is well worth investing in an ergonomically designed or modern model with adequate lumbar support, padding, and adjustable features. If you choose a quality supplier such as Furniture at Work complaints will be a thing of the past as you adjust to your new well-organized and comfortable working space.
Design and Layout
Ensure great functionality by having a triangle layout, that ensures everything you need is within easy access. Have your monitor well positioned in front of you and desk space curving around your chair for easy storage and movement. Opt for integrated storage where possible and desk and bookshelf storage where you require it. Choose an adjustable and moveable chair and opt for a wireless kit where possible to keep your working area clean and tidy. Also, think about your use of design and color. For example, yellow is often used by creative teams to stimulate ideas and thinking and green is ideal for calming and relaxation. Red drives passion and energy and is ideal for sales roles, whilst blue is perfect for professional and efficient roles. Consider your colors and look for the difference in your output! Also, look at lighting very carefully to maximize the benefits of natural light where possible. Lighten your window coverings and opt for a flexible blind, use bright LEDs or halogen spotters to illuminate your table, and adjust your PC screen settings appropriately.
Choosing A Quality Supplier
If you are investing in top-quality products, make sure you use the right supplier to guarantee a quality service experience. Furniture at Work is one such example. It is a company that takes pride in its product line, fulfillment, pricing, and overall customer experience. The company works hard to ensure that customers are delighted with their orders and there is a wide catalog online and in print, with a broad range of colors, product ranges, and diverse themes to suit all needs. In the rare instances that furniture at work complaints are logged via the website, one of their service team gets back to the customer as soon as possible and does everything they can to resolve the issue. This ensures peace of mind for the customer, to know that they are dealing with a high-quality supplier. So, don't delay in sprucing up your home office today and creating an attractive, highly functional, and motivating space to work in. You should really see the results, in both your enjoyment of your new office and your output!