3 Staircases to Add Style and Flair to Your Home
by Guest on Sep 2, 2013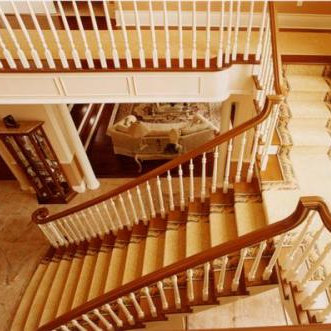 A beautiful home is beautified further by internal décor. Several small decisions, like a painter's strokes, encapsulate and finally originate a home's inner glamour. No implement shall be neglected of design meditation, down to the very last step.
A variety of staircase options await new owners and renovators. Achieved design and custom options have elevated the industry. Consider three designs and options considered modern staples of interior design.
Spiral
The spiral staircase, perhaps the most aesthetic, offers several design options. Advantages include:
Spiral cases can be applied where little space available; small spaces have sacrificed the need for large cases.
Attics and basements are oft thought no-man lands, but those who embrace them enjoy larger living areas. Spiral cases create easy transfers up or down from the main levels of the house.
The unobtrusive and elegant design makes the spiral model an aesthetic favorite amongst many designers and interior moguls.
Downsides to owning spiral staircases include difficulty for the elderly and young to traverse, and limitations as primary staircases, placing the kibosh on particular options.
Floating
A floating staircase blend into the landscape of a room, seamlessly added to the interior when constructed well. Several modern houses feature the design. Advantages include:
Floating staircases are 'in,' attracting homeowners of all styles and ages. The space-saving design works well in some settings and motifs, beckoning the application of designers everywhere.
The minimalist effort warrants limited dollars. There's no reason to spend a lot to look trendy.
Depending on the space provided and the structure of surrounding walls, designers have several options. Floating staircases don't have to be straight metal stairs; design options are limitless, resources providing.
Safety is one of the biggest downfalls, floating stairs often offering traversing parties no handrails or objects to catch their stumble. The floating staircase is not a viable design for those with small children or pets.
Custom
Aside from the shape of the stairs, the variety of wood, color, and customized text makes a difference to owners and a huge impression on visitors. Many carpenters engineer staircases depending on the owner's wishes according to shape and other customizable options, including separate-sized steps for toddlers.
Staircases may fit the ability, artistic temperament, and color preference of inhabitants. For example, a carpenter may suit a playroom or toddler's bedroom with age-appropriate stairs, fixing another set, suitable for the toddler's grandparents, in another portion of the home.
Mr. and Mrs. Smith decided to have their wedding vows grafted in the wood leading to the second story of their home. Mr. Smith travels often, and whether he's home or not, Mrs. Smith is reminded of his love and devotion.
Congratulations on owning a new home or deciding to renovate your existing interior. Remember, don't let the smallest detail or the last step go unnoticed. Many staircase options await those ready to take the next step in home décor.
Joanne Lawrence is an interior designer. She frequently writes about best design tips on homeowner blogs.