How to Remove Calcium Deposits from a Showerhead
by William parrett on Jun 7, 2017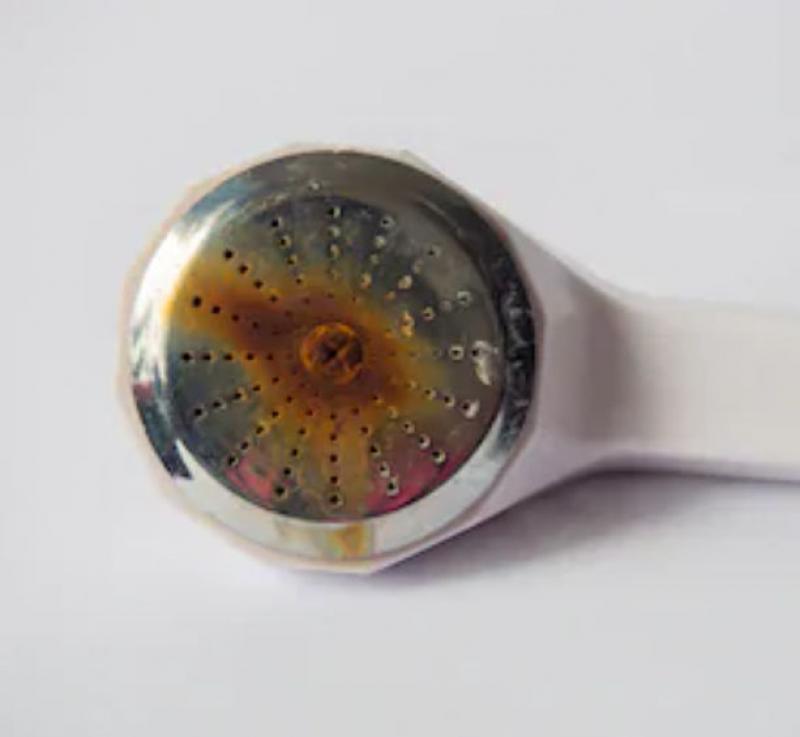 Hard water can wreak havoc on your faucets and showerheads. Over time, calcium build-up can block your showerhead – which can ruin your morning routine.
As you know, hard water has high levels of calcium, lime, magnesium, and other minerals. These minerals pass through your showerhead and once they dry, they leave behind deposits that build up over time.
That build-up can eventually clog your showerhead jets, so you either have no water or just a little water coming out.
Removing those hard water, or calcium, deposits can help keep your shower running smoothly. Here's how to get rid of that pesky build-up that's blocking your showerhead.
Vinegar Soak
One of the most effective ways to get rid of hard water deposits in your showerhead is with a good vinegar soak. Both white and apple cider vinegar will work.
There are two ways to use vinegar to clear deposits: a plastic bag, or a bath.
Plastic Bag Method
If you can't remove the showerhead, the bag method is the best option.
Here's what you'll need:
A large Ziplock bag
White or apple cider vinegar
Kitchen twine or rubber band
To get started:
Fill the Ziplock bag partially with the vinegar.
Tie or secure the bag around the showerhead, making sure the nozzles are submerged completely in the vinegar.
Allow the bag to sit overnight.
Use clean water and a clean rag to remove any leftover vinegar.
By morning, the mineral deposits should be cleared. You may need to use a toothpick to remove some debris, but most of the deposits should dissolve.
Vinegar Bath Method
If you can remove the showerhead, a vinegar bath can be even more effective than the plastic bag method.
Here's what you'll need:
White or apple cider vinegar
Large bowl
To get started:
Soak the showerhead in a large bowl filled with the vinegar of your choosing.
Allow the showerhead to soak overnight.
Rinse and reinstall.
Just like with the bag method, the deposits will dissolve overnight. And if there are any deposits left behind, you can use a toothpick to remove them.
Vinegar Spray for Hard Water Spots
Sometimes, hard water can leave behind spots. These spots aren't as problematic as clogs, but they can still be a nuisance.
If you have hard water spots on your showerhead or faucets, you can use a simple solution of half vinegar, half water to make your faucets as good as new.
Simply spray the solution on the spots and use a clean, soft cloth to wipe it clean.
Other Acidic Solutions
Apple and white vinegar are the best solutions for removing hard water deposits, but you can also use other acidic solutions to remove deposits.
Other acidic household items that are just as effective include:
Lemon juice
Sulfuric acid
Phosphoric acid
Muriatic acid (diluted: 1 part acid and 5 parts water)
You can also use these acids and the vinegar to remove deposits from the faucets and aerators in your home. In most cases, you'll want to dilute the acid so that it's safe for use around the home.
Specialized Cleaners
If you don't have vinegar or you need a super heavy-duty solution, there are specialized cleaners that will remove hard water deposits from your showerhead.
Some of the most popular cleaners include Bar Keeper's Friend, Lime Away, Bam, and CLR (Calcium, Lime, and Rust).
Preventing Future Clogs
If you don't have or want a water softener, you can help prevent future hard water clogs by keeping your showerhead clean. The vinegar tricks listed above can also be used as a preventative measure to keep build-up from becoming a problem.
Keeping your faucets and showerhead free of soap scum can further help prevent build-up and clogs.
If you have very hard water in your home, you may want to consider investing in a good water softener. A water softener will soften the water by lowering the levels of calcium, lime, magnesium, and other minerals that leave deposits behind. Without a water softening system, you will fight a constant battle with limescale build-up. If you aren't confident enough to install one then I do recommend getting a plumber to install it.