Convection Microwave Oven for Easy Cooking
by Guest Post on Mar 29, 2011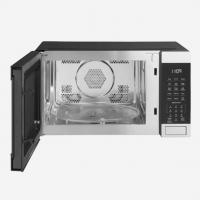 A convection microwave oven is fast becoming a standby in today's modern kitchens. If you are interested in saving money, time, and energy, then you should look at a convection microwave oven for easy cooking. As you may have guessed, a convection microwave combines the traditional radio waves of the microwave with hot air circulation, or convection. The microwaves quickly heat the inside of the food while the heating element and fan cause hot air to circulate around the outside of the food. Because the convection microwave sends hot air around the outside of the food, it is brown or crispy, as desired. This is a much better scenario than the soggy foods that often come out of a regular microwave.
As one can imagine, using a convection microwave will save time in the kitchen. No longer will you have to plan to cook for hours to create your favorite baked dishes. In ½ to 2/3 the time it takes for conventional cooking, your convection microwave will have your baked delights ready for your eating pleasure. Not only do you reduce the time, you will also find that a convection microwave is easy for most people to operate. Your school-aged children can learn to cook without having to worry about the challenges of cooking on a conventional range.
When looking at the various models of convection microwaves that are available, you may want to work with a sales associate to determine how easy the controls are to use. Have him demonstrate for you and go through all of the features. You will be much happier if you are confident in your ability to run your new convection microwave. It may also make a difference if you are planning on your children using the convection microwave as well. Because there are so many features available for a convection microwave, work with your sales associate to determine which ones you will use. More features usually translate into a higher price, so only get the features that you want.
Some of the main considerations you should determine before you go looking for a convection microwave would be the size and type of unit that you need to purchase. If you are replacing an existing microwave with a new one, you will want to replace it with one that fits in the vacated space, whether it is a built-in, over-the-range, or countertop model. You also want to look at the capacity of the convection microwave. If you plan to cook large meals, you will want one with a large capacity and an upper rack for dual-level cooking. If there are only a few family members at home, you won't need such a large convection microwave.
If you have a busy life that gives you less time for cooking than you would like, a great compromise could be a convection microwave. This will allow you to cook the foods you like in less time than in your conventional oven. You can make the choice and purchase a convection microwave oven for easy cooking.