The Best 7 Upgrades You Can Make to Your Kitchen
by Guest Post on May 16, 2020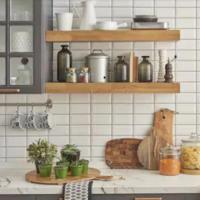 Upgrading your kitchen is one of the best decisions you can make for your home. This is because not only is it a room that you spend a lot of time in, but it can even boost your home's value. If you'd like to upgrade your home's kitchen, but you're unsure of where to start, here are the 7 best ways to do it.
The Countertops
A great place to start is your kitchen countertops. There are many different styles of countertops that you can have installed and each one will give your kitchen an entirely new look. For example, you could go with stainless steel, marble, granite, wood, or even concrete. Think about the other elements you already have in your kitchen and what material would go well with it. Here are some unique kitchen countertop ideas to get you started.
Cabinet Refacing
If you want to change up the cabinets in your kitchen, you don't need to replace them entirely. A more affordable option is to go with kitchen cabinet refacing. According to Boyar's Kitchen Cabinets, a San Diego cabinet refacing company, "Cabinet refacing is a cost-effective, eco-friendly alternative to a complete kitchen remodel." You can transform the look of your kitchen while remaining within a budget.
Wall Color
Another easy upgrading is changing the wall color. With just a few buckets of paint and a free weekend, you can make your kitchen look like new again. The best part about painting your kitchen is that you can often do it yourself, saving you the hassle of having to hire someone else. Think about the atmosphere that you want to create in your kitchen, then find a paint color that will bring it out. Sites like PPG Paints even allow you to see what paint color would look like in your room before buying it.
Floors
You may not notice them much, but your floors play a big role in determining how a kitchen looks and feels. The right floors can make all of the other elements in your kitchen come together. Consider switching up the tile on your kitchen floors to better match your other design elements, or install a different hardwood. You can even go hi-tech and install heated floors so that your feet are nice and warm in the mornings. Here are great kitchen floor ideas you can use for inspiration.
Lighting
The next item you'll want to think about is the lighting in your kitchen. No matter what other things you do to your kitchen, if you don't have the right lighting, you won't be getting the most out of them. The right kitchen lighting is the essential ingredient for creating the atmosphere that you want, so don't settle for whatever lights came with the home. Some ideas you can try are installing overhead lights, changing the bulb colors, adding in a dimmer switch, or changing the light fixtures. These are all simple, low-cost options that make a big impact.
Appliances
Besides the kitchen itself, you should also look into upgrading some of your appliances. You may want to get appliances that better fit your new color scheme, or perhaps add something more modern that your kitchen has been missing. By replacing your old appliances with new ones, you may even save some money on your energy bill each month. Shop around for a new refrigerator, microwave, or oven and see if anything on the market fits your budget. Appliances last a long time, and if you leave them behind when you move, you can even increase the value of your home.
Furniture
Finally, look to change the furniture in your kitchen. Sometimes something as simple as changing out the barstools at your counter can give you enough of the fresh look you've been after. If your kitchen table or chairs have seen better days, perhaps it's time to swap them out for something new. You can even consider selling your current furniture at a garage sale or online to help pay for the cost of the new furniture. Your kitchen is supposed to be a place where you can relax and enjoy some good food – so make sure you have comfortable furniture that you'll enjoy using.
Plan Out Your Kitchen Upgrade
It isn't always possible to do all the above at once, so you'll have to plan ahead. Set your budget and think about which items in your kitchen need the most work, or which ones will have the largest impact relative to the cost. Then you can start planning out the specific changes you want to make and before long you'll have a kitchen that feels brand new.