3 Tips to Help You Organize Your Kitchen
by Guest Post on Jul 26, 2010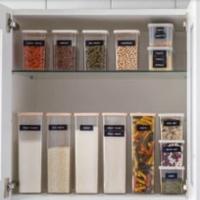 Having a well-organized kitchen is one of the keys to success these days. This is because the kitchen acts as a center for most of the activities in the house. For instance, having a very nice and well-organized menu will become a waste if you have no counter space on which to prepare the food. Similarly, your well-planned shopping list will not be of much help if your pantry is in a mess. These two factors serve as an indication of why you need a well-organized kitchen. It is important to get advice on how best to organize your kitchen for the activity to be fruitful. This article will provide you with some basic information on how to do this effectively focusing on three major areas.
Surface Space
Many people grapple with the problem of inadequate space in the kitchen. For those with insufficient space, there are great alternatives you can opt for. Having mobile kitchen carts for the large appliances will help you clear up your workspace. The carts can be conveniently placed in corners or next to a table, the best choice is against a wall. With the carts, you will be able to maximize the usage of your kitchen without waste. Another way to improve on working surface space is through the use of islands as they help create new surfaces. Apart from the working surface, there is also additional cabinet space creation for a more attractive kitchen.
Eating Area Positioning
Including a table in the kitchen serves two great purposes. First, it will serve as an eating area and also as a working surface. This means you should consider the use before choosing the location. You can place the table in such a way that it is the first thing you see once you enter the kitchen. This will serve as a nice place to place your packages after shopping. In case the table is only meant as an eating surface, the best way is to place it in a corner. You can combine this with bar stools to increase space efficiency.
Creating More Storage Room
An organized kitchen will need a number of cabinets. You can do this by placing a row of cabinets above an island or counter for those items that you use regularly. These include the dishes, pots, and other utensils that you want to keep close. Remember, to keep heavier items in lower cabinets. Using these basic tips, you will be able to have a well-organized kitchen.