Budget Bathroom Remodeling for an Updated Look
by Blewitt on Apr 21, 2020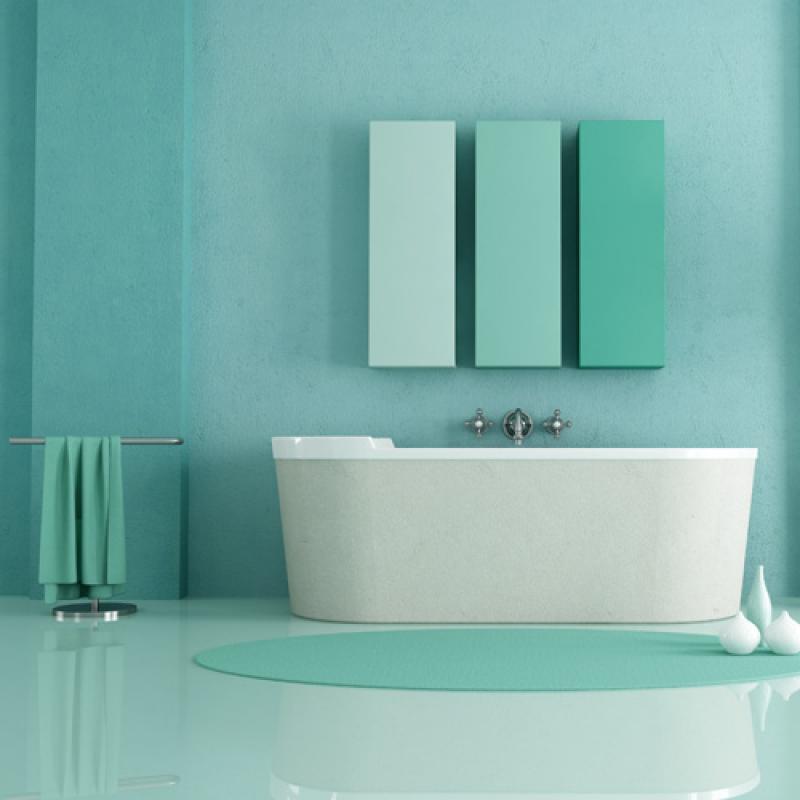 Do you know how many hours a week you spend in your bathroom? As a homeowner, the bathroom is one of the most used rooms in a house. Wouldn't you rather spend this time in a room that is not only functional but aesthetically pleasing as well? A bathroom remodeling job can create a beautiful space, even on a budget.
What Type of Bathroom Remodeling Do You Want?
Did you think that completely gutting the area and building a brand new bathroom was the only solution for your redecorating dreams? Although hiring a professional contractor is an option, there are less expensive remodeling projects that can still dramatically change the appearance of your bathroom. If money is an issue, there are low-cost decorating ideas that you can even do yourself as a family project.
New Paint Colors
One of the easiest ways to update the look of a bathroom is to paint the walls in a color you love. Any color works, but keep in mind that lighter colors seem to expand the size of the room. Blues and greens are relaxing and soothing colors, while yellows or peach are more energetic. Neutral colors such as grey or beige are also good choices.
The best types of paint finish for bathroom walls are semi-gloss or satin. Semi-gloss and satin are durable, resistant to humidity, and easy to clean. Although satin is shinier, semi-gloss is mildew-resistant.
New Flooring
Different types of flooring come in a range of styles, colors, materials, and prices. Vinyl and linoleum are inexpensive, durable, and easy to clean. Although ceramic tile is low-cost, it's also prone to stains and water damage. However, glazed ceramic tile has a coating that makes the flooring far less susceptible to stains and water. Another option is concrete flooring, which is porous and harder to clean. If you get a sealant for the concrete, it will be easier to clean.
The best solution for your household depends on your installation skills and the amount of cleaning you are will to do.
Refinishing and Refacing Cabinets
The cheapest way to change the look of bathroom cabinets is by refinishing them. If you have wooden cabinets, you can refinish them to look like any wood you want, such as walnut or pine. The process of refinishing includes stripping off the paint, sanding the surface, and then staining it. If you want, you can paint the surface instead of staining.
Refacing is the next option if you don't mind spending a bit more money. Although refacing cabinets is often done in the kitchen, it's also an option in the bathroom. With refacing, you replace the fronts of doors and drawers. By installing a new veneer to the fronts of the cabinets, you get an entirely new look. Whether refinishing or refacing, it's best to choose colors that complement the colors of the walls and floor.
Personal Accessories
The accessories in your bathroom can make the room special. There are also endless possibilities. You can add a new mirror with an interesting frame. How about a new massaging shower head? Lighting fixtures are another way to give the bathroom a new look.
Buying new towels, a bath mat, or shower curtain is certain to make a bathroom more appealing. Adding a few humidity-loving plants, a pretty flower vase or a painting can also make the bathroom seem more like home.
Shop at a Home Improvement Centers
You can get great ideas and prices for your bathroom remodeling project by visiting large home improvement centers in your area. Here you'll find a variety of products in different price ranges and styles. These places are good for budget remodeling jobs.
For bathroom remodeling on a budget, these tips are certain to add new life to an old room. By freshening up its appearance, you will feel as though you have turned your bathroom into a spa.