How Can Kitchen Cabinet Organizers Help You?
by Guest on Aug 17, 2010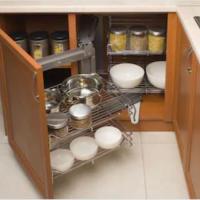 One of the vital corners of your home, the kitchen is a place where the whole family meets for meals. It is an important place and hence needs to be well organized and cleaned to have the healthiest ambiance. From the walls to the cabinets, every part of the kitchen should be perfect (or close to it) and for this, you need to find the right organizers to give you the best look. However, you might be wondering how to know what a good kitchen cabinet organizer is because there are so many of them to choose from.
Some Facts about Kitchen Cabinet Organizers:
One of the aspects of a kitchen cabinet organizer is a roll-out shelf that might hold utensils, pots, and pans outside the kitchen cabinets. This way they can add more space to the existing space and provide you with more storage space. Since the shelves can conveniently be rolled out, therefore, the utensils can always be kept at hand.
The sides of this kitchen cabinet are made of natural nine-ply maple while the bottoms are made of melamine. The best thing about these cabinet organizers is that they can carry a heavy load and do not sag easily, are easy to clean, and can add more space to your cabinets in a few minutes.
You need not worry about overloading these shelves because they can open up to 3/4th of their length and can hold about 75 pounds of things.
The roll-out shelves are very easy to install. They are almost cabinets on shelves and can add a lot of space to your cabinets easily making you realize how indispensable they are to your kitchen. Just four screws are enough to fix them completely.
There is another kind of kitchen cabinet organizer found in the market which comes with little kits. You can place these kits on the shelves of your cabinets and keep your flavorings, spices, and condiments in them. Airtight and convenient these kits save a lot of space while storing the most important ingredients to your food conveniently at hand.
Therefore, kitchen cabinet organizers are handy. They can keep your ingredients and utensils fresh and clean, thus ensuring you the best storage and space saver possible.