How to Organize Your Kitchen in 4 Easy Steps
by Guest on Aug 31, 2010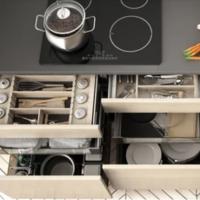 Are you tired of cluttered kitchen cabinets, drawers and pantry shelves? Do you find yourself getting frustrated looking for a utensil you know you have - but cannot find?
Here are four organizational tips which will help you begin to organize your kitchen tools and appliances so they can be easily stored in their proper place.
1. Start With a Big Box
Find a large box and set it in your kitchen. Next, go through all of your utensil drawers and remove anything that has not been used over 18 months. Place all those unused utensils in your box. Do this for every drawer and cabinet that you have. When you are finished, you will notice a lot of space is now available in your kitchen storage areas. Do not stop there. Many of those now half full spaces can be combined to free up an entire shelf, cabinet or drawer.
Look through your box full of utensils and kitchenware paraphernalia. Any utensil or piece of kitchenware that is still in good condition, but is no longer used, set aside to give to charity. If however there is a utensil which you feel would be used again when the occasion is right, set aside. Once finished, use your now empty spaces in your kitchen for these products.
As you put this tip into practice you will find many pieces of kitchenware from knives to dough blades to pie pans that are simply no longer usable, or you have simply forgotten about. This is often true with appliances or gadgets which are given as gifts, or were purchased at one time or another and are no longer used. For example, you may find in the back of a cabinet or pantry a manual hand crank meat grinder that had been passed down from your grandparents or parents. However, in today's more modern and technologically advanced world of kitchen appliances, you can now purchase electric meat grinders which are easier and more efficient to use. There is obviously no need to keep a manual meat grinder if you now use an electric one.
2. Get Rid of Old Cookbooks.
This can often be a hard task for those who love to cook and look for new recipes. However, one will be surprised at the number of cookbooks which can be accumulated over just a few years or decades. Therefore, if looking to free up extra space, it may be a good idea to start with your cookbooks. Cookbooks which no longer serve their use or intended purpose can be given to charity, or even offered to friends and family. Young people who are starting off on their own and do not have a lot of money are perfect recipients of these culinary donations.
3. Clean Out Your Spice Racks
Dried spices begin to lose their potency after 6 months, while frozen herbs can last longer up to 12 months. Take a quick inventory of your dried spices and herbs and anything past 8 months should be discarded and replaced. Likewise, discard frozen herbs past 18 months. Keeping herbs on hand for long periods of time can be a disservice to the meals you prepare - all due to the loss of flavor. For example, trying to make a curry and rice recipe with 18 month old curry will not produce the same results as when you first bought the spice. Or, using old anise for Italian bread dough will not give off the same aroma as if you had used fresh seeds.
4. Enlist the Help of Others
One last tip for those who find themselves having a difficult time reducing inventorying due to emotional attachments or memories - is to enlist the help of a friend or third party which is not emotionally attached. They will help you think through which objects are worth throwing away, donating to others in need, or are worth keeping. This process may not take just one day, but perhaps several weeks. Go at whichever pace is appropriate for you, and you will soon have an organized kitchen once again.
This article was contributed by www.simpleitaliancooking.com, a website featuring free Italian recipes and kitchenware reviews including the Chefs choice meat slicer, the Waring mg800 meat grinder, and other commonly used Italian kitchenware products.