4 Budget Friendly Ways to Change Your Cabinets
by Guest Post on Sep 13, 2010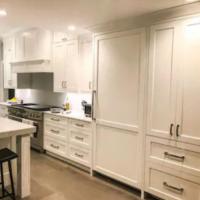 Is your kitchen outdated and unappealing? If so you definitely want to consider updating your kitchen cabinets. Cabinets can change the entire look of your kitchen. Cabinetry is the heart of your kitchen. Maybe you have wanted to change your cabinetry for a long time, but you don't have the budget available to make it happen. Don't fret; we could have the answer to your dream kitchen. We will discuss some budget-friendly ways to make your cabinet needs become a reality.
4 Budget Friendly Ways To Change Your Cabinets
One way to upgrade your cabinets at a low cost is to reface your cabinetry. If your cabinets are in great shape and you like the layout of your kitchen then re-facing your cabinets could be the answer. You can completely change the look of your cabinets. You can choose from endless styles and finishes for your cabinets. This is a great way to get a new look at a low cost.
Another budget-friendly option to change the look of your cabinets is to paint them. Again, if your cabinets are in great shape this is an easy and very low-cost way to change the look of your kitchen. Spice up your kitchen with a new color on your cabinets. The process is simple, sand your cabinets then paint. This is one of the cheapest ways to get a different look in your kitchen.
Adding new hardware to your cabinets can make a huge difference in their appearance. If you like your cabinetry but they are missing something or have outdated hardware it could really put a damper on your kitchen's style. Hardware for your cabinets can be as low as one dollar per piece so this is a really cost-effective way to bring your cabinets up to date.
If your cabinetry is in poor shape and you are unable to do the options we discussed above then RTA cabinets could be the answer that you have been looking for. Ready-to-assemble cabinets are very budget-friendly. These cabinets are available in any style and finish you could want and they are extremely durable.