Maintaining the Shine of Your Stainless Steel Sink
by Guest Post on Feb 3, 2011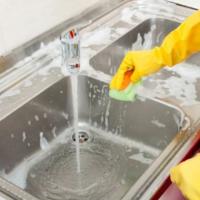 Although stainless steel is durable and can endure the test of time, it does not necessarily mean that is maintenance-free. You have to remember that Stainless Steel is an alloy that is created from a mixture of metals which include nickel and chromium. Since there is an adequate amount of chromium in it, it can create a protective pseudo-film of chromium oxide on its surface when left exposed to air.
If the sink's surface is wet or caked with foods and other contaminants, the sink may not be able to create this protective film anymore and finally become vulnerable to stains and rust marks. If you know how to maintain your sink, it may last for a lifetime and may continuously provide charm and beauty.
So, how do you properly maintain your Stainless Steel Sinks?
All you have to do is follow the instructions provided in this article.

Weekly, you have to wash your sink with mild dish detergent using a soft sponge or towel to prevent whatever mineral accumulation coming from the water. With a soft piece of cloth, dry your sink after to avoid creating a dull appearance of the sink. For oil spots or harder soot, you can make use of baking soda with water. Using a soft sponge, scrub towards the direction of the spot. Do not use steel wool on the sink. This will scratch the surface and tamper with the appearance of your sink.

It is best if you do not let your food left to dry on the surface of your sink. This can cause discoloration. Scratches may also be found on the stainless steel sink over its lifetime. You can make use of a protective grid so as to prevent scratches on the sink. You can make use of products like Bar Keepers Friend to remove fine cosmetic scratches. Then, follow the manufacturer's directions.

Oily fingerprints may be removed with the use of undiluted white vinegar. Pour out a working amount over a soft cloth or paper towel. Then rub over the fingerprints. Rinse. You can also try using a window cleaner with ammonia. However, be aware that ammonia has chemicals that may dull granite or other solid surfaces.

Oil, whether it be mineral or olive has the power to remove smudges and will give luster as if it was new. In doing so, you have to first make sure that your sink is dry. Start with small drops on a paper towel and rub over the surface of the sink. You can repeat this step until you are satisfied with the results.

Rust is often created when you toss pots, pans, or other flatware in the sink. The marks they cause are just superficial and can be easily removed with baking soda and water or with the help of a product like Bar Keeper friends. With stainless steel sink, you will have an elegant-looking kitchen.