6 Kitchen Appliances That You Must Have
by Rohit on Jul 26, 2018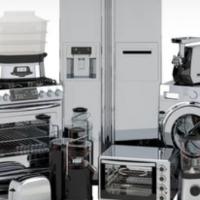 Setting up a new kitchen or revamping the décor of your house might bring forth a situation you least prefer. If it's that time of your life when you have to buy essentials for your kitchen and do not know what exactly to buy and what's just brands playing marketing tricks on you.
While kitchen appliances can be highly specific and will depend on your requirements and usage, some appliances are absolutely necessary and would not be a bad investment. Not just saving you some guilt there, but also money and increased productivity. Let's take a look at the concise list of what you should be looking out for.
1. Pressure Cooker
One of the most important utilities of a kitchen. If you are looking for an alternative to a slow cooker, this one might be it. It is much faster and can be used for a lot of purposes like boiling, steaming, sautéing, or simmering your food as per your requirement. If the kitchen space is less spacious, this appliance should reduce the necessity of bulkier utilities that take up a lot more space. You are not just saving time but you are also cooking your dishes to perfection as you can pretty much measure the richness of cooking by counting the number of whistles that go off. 
2. Food Processor
Something to save your time and hard work. We are living in an era where human comfort is of prime importance and technology is striving hard to keep it this way. Give technology a chance and get yourself a food processor. There is so much this can do from chopping to blending. This will even eliminate the need to buy a blender and get all your vegetables collected as this will let you cut it fine.
3. An electric kettle
There are times when you are lazy to heat water for your sore throat and give up on the idea whatsoever. Well, an electric kettle will let you quickly heat some water or make some tea in an instant. It'll also reduce the number of utensils that go in the dishwasher and you are also saving LPG. It's a really handy appliance and is a worthy buy. 
4. Microwave Oven
You already know this but it still has to be a part of the most essential kitchen appliances. If you are skeptical about buying a microwave oven, take a look at its pros and you are sure to make a better decision. There is nothing more convenient than reheating in your microwave using the same utensil you stored the food in. This kind of freedom and comfort does not come with a gas stove. That's not it. You are going to find a hundred uses for your microwave in your daily kitchen activities.
5. Sandwich Maker
The possibility of someone not liking a sandwich is quite less. Assumptions go one way, but for those who like sandwiches and cheese, a sandwich maker is a must on the list. There is no alternative to having compact cheese filled sandwiches other than a sandwich maker. This is a must for those who like to have a quick breakfast in the morning and don't often find time to have it.
6. Soda/Coffeemaker
Well, the choice here is split into two. Every household is bound to have a special drink. The choice here is between coffee and soda. If you are a morning coffee person, a coffee maker is going to be in use daily and will save up a lot of time and money. If you enjoy your evenings with a carbonated drink, a soda maker should be on the list. Whatever your choice, if you either of these, both the appliances will not turn to disappoint.
This should ease up your buying process and should give you a clearer picture of what you were out there for. Buying unnecessary items will not just waste money but will also make your kitchen clumsy by occupying precious space. Stick to essentials and you are good to go.