Factors to Consider Before Buying Bathroom Furniture
by Valerie Muscat on Aug 20, 2018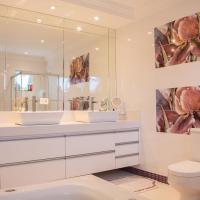 The right furniture in your bathroom can help your bathroom look spacious and sophisticated. There are many fitted bathroom furniture ideas available that can help you decide on the ideal furniture for your bathroom type.
The decoration in your bathroom plays a vital role in how your bathroom looks. You need to understand the importance of choosing the right type of fitted bathroom furniture. If you have a small bathroom you can go for wall-mounted furniture and large mirrors which gives a visual effect of a larger bathroom.
Here are a few tips you should keep in mind before you select furniture for your bathroom.
1. What type of bathroom furniture do you need?
You need to prioritize what type of furniture you need in your bathroom. Your furniture will depend upon your bathroom size and the number of people using the bathroom.
The main types of furniture you could consider buying are vanity or storage cabinets. These are the standard requirements for any type of bathroom.
Your vanity unit should be practical for everyday use.
A bathroom without storage can look cluttered. The proper storage cabinets ensure that all items are kept today and in an organized way.
There are plenty of other furniture options you could consider while buying furniture such as- towel hangers, shower, lights, mirrors and much more.
2. What is your budget?
Your budget plays the most important role in renovating your bathroom.  You might want to go for a certain look but it might not be possible to go for that look due to budget constraints.
Thus it is important to sit down and decide on your bathroom renovation budget. This will give you the clarity to decide what type of furniture would fit into your budget. This will help you focus on the kind of furniture you require.
3. What look do you want?
When deciding the style of your bathroom you need to decide the atmosphere you want your bathroom to depict. Your bathroom should be a mixture of two important elements: comfort and style.
You need to determine if you want your bathroom to be a simple minimalistic type, a large spacious family bathroom or a classic white bathroom which can serve all your requirements. Think about the color scheme you want to choose and the kind of feel you want for your bathroom.
You can browse bathroom furniture designs to get ideas that you can then narrow down to your perfect bathroom solution.
4. How much space do you have?
You need accurate measurements to determine exactly how much space you have. You should consider door opening and windows also considering where the existing wiring and pipework are situated.  This will help you to select the furniture that will fit perfectly in your bathroom.
5. What materials do you want to use?
Your furniture should be able to withstand the humidity associated with a bathroom. Your furniture should also be durable in terms of everyday use.
Wood veneer and laminate are the two most preferred bathroom furniture materials. They are known to be durable and easy to clean.
You should check out Utopia fitted bathroom furniture which has a spectacular range of bathroom furnishings. The unique range of Roseberry fitted furniture is a classic range of luxury painted timber bathroom furniture that covers all requirements.