Do Not Stop at New Kitchen Doors
by Guest on Nov 1, 2011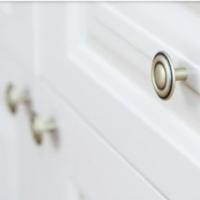 So, you've looked through brochures and seen what the TV chefs use. You've decided on colors and know exactly what your kitchen layout is going to be. Maybe your budget doesn't run to a whole new kitchen, and you've just decided to go for some new kitchen doors to freshen the place up and make it look like new. What you shouldn't do, after going to all that effort, is reuse the old accessories on your new kitchen doors or cabinets. It might seem like you can save a few pounds by not buying new fittings, but it's a false economy – the new doors will instantly look old and cheap and you'll have lost any benefits you thought you'd gained. Accessories finish off your kitchen, regardless of whether it's all brand new or you have just replaced the doors, so for this article I'm going to look at some of those and see what is available to you.
Handles & Knobs
Almost all cupboards and drawer doors have handles and knobs of some sort unless you've gone for those fancy 'push to open' ones. If you are minded, you can go down to your local hardware store and pick up something in stainless steel or wood, but have you looked at what is available out there? There is far more choice than you can imagine, and it's all there for the taking. You can find handles and knobs in almost any material, from wood to metal to plastic, and in all sorts of shapes and finishes – rounded, squared off, smooth finish, rough finish, patterns, polished, matt, the choice is yours. There is no need to spend a fortune on these either; you can get some very striking designs for very reasonable prices.
Worktops
Even if you have left your old kitchen in place and only replaced the doors, there's no reason you can't change the worktop at the same time and it makes a lot of sense to do so if you've changed the style of the doors because you can make the worktop match. If you don't, the cupboards and worktop can clash and the whole thing will just look wrong. As with the handles, don't restrict yourself to what you see in your local stores – have a look at online stores and investigate different materials and finishes. Metal is cold and clinical but looks good in a modern kitchen, vinyl wrapped wood comes in a variety of colors and is easy to maintain, while solid wood requires work to keep on top of but makes a good kitchen look great. Go for something that matches your flooring if you want to draw attention to your new kitchen doors.