Cleaning Stainless Steel Sinks
by Guest on Apr 10, 2010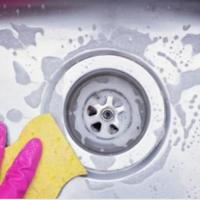 While stainless steel is very durable it is not completely maintenance-free. Stainless Steel is a metal alloy created from a combination of metal including nickel and chromium. Because there is a sufficient amount of chromium it creates a protective film of chromium oxide over the surface when exposed to the air. If the sink's surface is left wet or coated with food and other contaminants the metals in the sink cannot form this protective layer and become susceptible to stains and rust marks. If properly maintained your sink will last a lifetime and continue to add charm and beauty to any decor.
General Cleaning Instructions:
Wash weekly with mild dish detergent and a soft towel or sponge, to prevent a build-up of mineral deposits from the water. Dry with a soft cloth after each use to prevent water spots that can dull the appearance of the sink. For oily spots or tougher grime, you can use a mixture of baking soda and water with a soft sponge and scrub in the direction of the grain. NEVER use steel wool on the sink this will scratch the surface.
General Care Instructions:
It is recommended that you do not leave food to dry on the sink surface, as this can cause discoloration on the sink. Some scratches will occur over the lifetime of the stainless steel sink. It is recommended to use a protective grid to prevent excessive scratches to the surface of the sink. To remove fine cosmetic scratches, a product like Bar Keepers Friend® will do the job. Simply follow the manufactures directions.
Undiluted white vinegar will remove oily fingerprints! Simply pour on a soft cloth or paper towel. Rub over fingerprints and surrounding area. Rinse thoroughly. You can also try a window cleaner with ammonia in the product. Be advised that ammonia can dull granite or other solid surfaces. Oil (Mineral or Olive) will remove streaks and gives it that "new sink" shine. First, dry your sink. Start with a few drops on a paper towel and rub in well over the entire surface of the sink. Repeat until the desired result is achieved.
The appearance of the rust is often caused by tossing or leaving pots, pans or flatware in the sink. These marks are superficial and easily removed with a little baking soda and water or a product like Bar Keepers Friend® (available at most supermarkets). Follow the manufactures instructions for any store-bought product. Or make a paste with baking soda and water and rub it with the grain of the finish until the marks are gone. Rinse thoroughly, repeat if needed, and finish by drying the sink with a soft towel.
For deeper nicks, a Brillo or an S.O.S.® pad can help to disguise some of the damage. With the grain of the finish, gently rub over the scratch and the surrounding area. When finished rinse and dry. (This tip is meant for deep cuts to a brushed finish, using this type of product will cause permanent scratches!)
Quick Tips:
- NEVER use steel wool on your stainless steel sinks - NEVER Use bleach or chlorine on your stainless steel - DO Remove grids to dry the sink - DON'T Let food dry on the sink's surface - DON'T Let pots, pans or metal flatware set in the sink overnight. - DO Run cold water when pouring boiling water into your sink - DON'T Use your sink as a cutting board - DON'T Leave wet sponges or towels in your sink - DON'T Rub cleaning products against the grain of the finish - DO Keep your sink dry - DON'T Use rubber mats or dish bins in the sink
A stainless steel sink is a great compliment to any style of kitchen from traditional to contemporary. Every kitchen deserves a great sink.