Natural Stone (Granite) vs. Engineered Stone (Quartz)?
by eZineArticles.com on Nov 16, 2011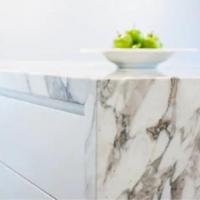 People compare granite with engineered stone. Granite is mostly used for kitchens and bathrooms. It can resist heat, stains, and scratches. Many of them love it because of its natural appearance which attracts the room. But engineered products are gaining popularity slowly. Engineered stone is 90 percent made up of natural quartz. But granite is only 40 to 60 percent made up of quartz and the rest is made up of softer minerals. Engineered product requires less maintenance when compared to granite because it is non-porous. The durability of an engineered product is great. If the surface gets a minor stain or scratch, someone from the fabrication shop can buff it out. Engineered stone is also called a man-made stone. Granite is not manmade but it is a natural stone. Man-made quartz surface is more heat resistant than natural stone. If a hot pot is kept on granite, it can crack. None of the manufacturers recommend putting hot items directly on the surface of any man-made products.
Many manufacturers provide 10 years of limited warranted for this type of product. But in the case of granite, manufacturers only provide a base warranty. Engineered products can be used for kitchen countertops, shower and tub surrounds, vanities, and other surfaces throughout the home. Many manufacturers offer different types of engineered products like Caesar stone, Cambria, Sile stone, and Zodiaq.
Caesar stone is 93 percent made up of quartz products. You can get bright to subdued colors in Caesar's stone. Cambria is made up of pure natural quartz and epoxy resin. It has a mock granite look. Sile stone consists of 93 percent quartz and 7 percent polymers. It is a scratch-resistant surface. It provides a brilliant polished finish. Zodiaq is made up of Dupont, the surface material captures the radiance of quartz crystal with depth and clarity.
Engineered stone products are slightly heavier than granite. They don't break that easily during transportation and installation. Like granite, engineered stone comes in 52-inch by 120-inch slabs. Prices for engineered stone products run slightly higher than granite. Prices vary with the market. In Midwest, engineered stone runs around $60 per square foot. But the negative point of this product is there are no swirls or big color variations when compared to granite. Granite has a longer life but engineered stone is a much better choice. If a granite countertop has any cracks it cannot be replaced with the exact material because it is a natural stone and not man-made. With engineered stone, it is easy to replace the damaged section with a piece that is indistinguishable from the original.