Stainless Steel vs. Granite Composite Sinks
by Guest on Apr 10, 2010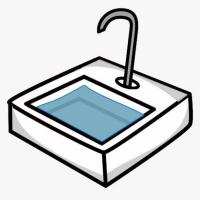 There are many choices when picking out your new kitchen sink. The most common sink found in today's homes is a stainless steel sink. Stainless steel sinks are common due to their durability and ability to match the look of more modern kitchen appliances. New technology has enabled the production of granite composite sinks, which also have many benefits. Please use this article to discover the differences between the two.

Stainless steel has been used in kitchen sinks for many years. The majority of homes will have this type of sink, especially if the home was built in the last 10 years. While most of these sinks are pretty standard with one or two bowls in rectangular shapes, stainless steel is also easily molded into any shape one can imagine. Of course, the more unique the bowl is shaped, the more expensive it will tend to be. In general, these sinks are the most affordably priced option on the market and offer a wide variety of looks for your kitchen.

Stainless steel is a pretty durable metal, which is why it was chosen to be used in this application. Keep in mind that while it is scratch resistant, it is not scratch-proof. Most of these sinks will have a brushed finish, which will help to hide the small scratches that will occur over the lifetime of the sink. Any larger scratches can usually be buffed out by following the manufacturer's cleaning instructions. These sinks do require some maintenance to keep them looking nice, but nothing too extensive.

Granite composite sinks are the result of recent technological advances in the sink industry. These sinks are composed of granite or quartz composite and acrylic. They are incredibly scratch, heat, and stain resistant; more so than stainless steel sinks. These sinks are available in different colors; the most popular being black, brown, and white. They are more expensive than stainless steel sinks but also offer more benefits. There is even one company that has added silver ions to the sink material which kills 99% of all bacteria on contact.

Both sink types are available in different shapes and styles and for top mount or under mount installations. Top mount sinks are typically used with non-solid surface countertops such as laminate or Formica. These types of countertops can't have under mount sinks due to the fact that water would get into the countertop and cause damage. Under mount sinks are used with solid surface countertops such as granite and marble. The standard is that top mount installations are far less expensive than under mount installations. Search the market and you should be able to find a good sink in your price range.