DIY: Fit Your Own Ensuite Bathroom
by Lorena Benchis on Dec 15, 2011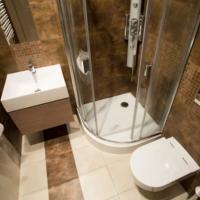 Probably the most personal room in the house, the bedroom is where we can truly relax after a long or tiring day and shut out the rest of the world. Getting the interior and furniture right in your bedroom is therefore of utmost importance to ensure you feel comfortable and at one with your bedroom at all times.
Bedroom furnishing and DIY is not just all about beds, however, One of the best additions you can make to your bedroom is an en suite. This will give you all the privacy you need when getting ready and ensure you avoid those morning battles for the shower if you live in a busy household.
If you are thinking of fitting your own en suite, the first thing to ensure is that you have enough space to do so. Picking the right bed can make all the difference when it comes to having the space for an en suite bathroom. A divan bed or sofa bed might be the best option if you have limited space.  
If you have an old bath to remove, take out the bath panel and turn the hot and cold water taps off then remove the bath using a basin spanner. If you need to remove any pipes, use a pipe cutter. But only do this if absolutely necessary in order to remove the bath.
Before removing an old toilet, flush it and then get rid of any water leftover in the cistern. Undo the water inlet and overflow connection and unscrew the fixings at the back of the toilet and cistern. To install your new bathroom fittings, ensure you have all the equipment you need and that you follow the manufacturer's instructions.
Often, with jobs like bathroom fitting, it can save you time and money in the long run if you enlist the services of a reputable professional instead of trying to tackle it all yourself.