Installing a Water Saving Shower Head
by Guest on Dec 3, 2011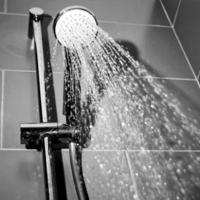 Water conservation is becoming a major issue amidst increasing consumption and waste of water, particularly in drought-affected areas.  Many cities are urging residents to water lawns less frequently and install plumbing in their homes that reduce the amount of water used for certain tasks.  One daily task that consumes large quantities of water is showering, as the average person uses 30 gallons of water for a 5-minute shower.  Installing a low-flow or water-saving showerhead can cut down the number of gallons you use to approximately 10, saving you money and helping to conserve this precious resource.
Many homeowners are wary of installing a low-flow showerhead in their bathroom, but it is an easy plumbing job that you can do yourself.  There's no need to call a professional plumber to your home and pay them for a job you can easily do in 5-10 minutes.
The first thing you need to do to install a water-saving showerhead in your bathroom is to take a wrench and unscrew the shower head you are currently using.  Once off you can examine the pipe jutting out from the wall to see if your new shower head needs threads on the inside or outside.  
Once you know what type of showerhead will screw into the pipe, you should visit your local hardware or home improvement store and purchase one that will work.  Now, there are many different styles of showerheads, such as pulsating, massaging, and even handheld ones, and you should choose the one you like the best.  Also, some low-flow showerheads come with shut-off valves, which allow you to easily turn off the water when you are in the shower soaping up.  If you are really focused on water conservation, this is probably the shower head you should buy.  However, don't forget it must have threads that match the pipe sticking out of your bathroom wall.  When shopping for a new low-flow showerhead you can take your old one with you to the store to ensure you buy the right kind if you want to.
Once you have purchased a new shower head, it is time to install it in your bathroom.  All you need to do is take it out of the package, place any filters and washers in the showerhead, and then screw it onto the pipe coming out of the wall.  Some plumbing experts recommend using a little bit of bar soap or liquid soap around the threads of the new showerhead and the pipe in the wall, as this makes it easier to screw them together.  Finally, it is important to make sure you use your wrench and get this tight, otherwise, you will have a drip into your shower or water spraying all over your bathroom.
If you live in a city where using less water has become a focal point or you are just interested in protecting the environment, a low-flow or water-saving showerhead may be the perfect thing for you.  While you can use these showerheads to save money by lowering your water bill, you can also save money by installing them on your own without having a professional do it for you.