How to Design a Compact Kitchen
by Guest on Apr 10, 2013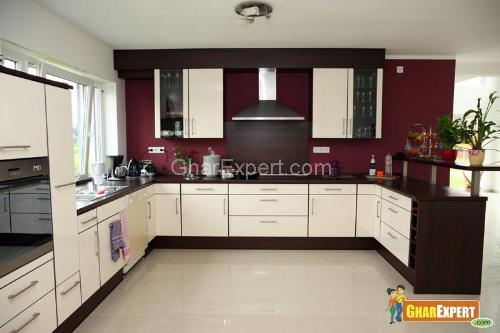 Wouldn't it be great if we all had as much kitchen space as we wanted? Well, we all don't have it even if we want it. It can be challenging to cram all you need into the small kitchen space you have. Here are some tips that might help you when designing your kitchen:
Before you start, walk around your current kitchen to find out what are the things you don't have in the kitchen and want to have in your new kitchen. Think about the new appliances you want, the storage, the sink area and the amount of workspace you want to have. Consider how many people will be using the workspace. What kind of cooking you enjoy, and other factors.
U- shaped designs work especially well for small kitchens. They are ergonomic and allows more storage space, and also a seating area, if planned right. Consider a split- level surface to accommodate a dining space. Have wall units for storage space, which also helps in accentuating the height of the room.
L- shaped layouts can work well for small spaces, with appliances like the hob and oven on one side of the worktop and the sink on the other.
Defining spaces is important in a kitchen, and more so in a compact space. Have different zones for preparation, cooking, and washing. If your kitchen space doesn't permit separate zones for separate activities, you can double up some of the activities. For instance, you can use the preparation area for informal dining, while a ceramic or glass hob can double up as a workspace, when not in use.
A microwave at the cook-top can take away the aesthetics from your kitchen. A freestanding microwave sitting on the counter may seem like an afterthought and can make your kitchen look clumsy and cluttered. Create a microwave drawer to save cook-top space and give your kitchen a more integrated look. Microwave drawers can be purchased through any microwave dealer. There are many options in the company, size, and prices.
As it is a small kitchen doesn't have enough space. If it is cluttered with unnecessary appliances, it will look all the more cluttered, disorganized and messy. So, you must keep the kitchen clutter-free, by placing only necessary and essential items on the surface. A sink with a glass cover can add as a prep area when you are not using the sink.
Most small kitchens do not have room for a full-height pantry cabinet. Creating a pantry pullout in your small kitchen can create a great storage option, utilizing much less of the footprint. It makes efficient use of space and also offers easy access.
If you are a resident of Brisbane and planning to design your kitchen, you can take the help of professional designers. They can be trained and qualified and shall be better able to assist you in choosing the design of your kitchen. There are many firms where you can hire professional designers. Visit here to know more.