5 Common Home Repairs Using a Miter Saw
by Valerie Muscat on Aug 27, 2018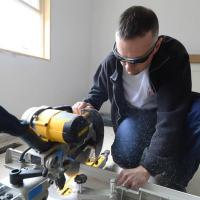 Conducting home repairs is now easily done thanks to the availability of power tools in the market. Home renovations can be expensive and at the same time a long process if done by professionals.
5 Common Home Repairs using a Miter Saw
Before starting the repairs or home restoration process, make sure to prepare all the needed materials, especially the miter saw because it will be used to properly cut the wood needed for doing the repairs. After the repairing or restoration process, you can also paint or stain or just opt for a natural look if you prefer it. The common materials you will need are a miter saw, tape measure, hammer, nails, sandpaper, paint or stain, and wood glue.
1. Fixing a wobbly chair – If your favorite wooden chair at home has a broken leg, you can fix it by getting a piece of wood, teak, pine or cedar is advisable as it is affordable and durable. Use a miter saw to cut the wood according to the leg sizes of the chair. Once the broken leg is replaced, clamp and glue it to make the chair solid and sturdy. Use sandpaper to make the leg smooth and paint it accordingly, depending on your preference.
2. Restoring an old deck – Restore an old wooden deck whether the wood is worn, cracked, or broken. Get the materials you need, there are three common wood choices for wood decks, pressure-treated wood, redwood, and cedar. Both redwood and cedar are preferable choices because of being insect and rot-resistant. Both also stand out because of the natural look they possess. Cut the perfect size of wood, you will need when repairing the broken wood deck by using a miter saw; use sandpaper to make it smooth. You can also use a deck cleaner, to keep it clean before painting it. A pressure cleaner can be used to clean the other parts to restore their appearance.
3. Fixing broken drawers – Fixing broken drawers can be easy when you have the right tools and materials. The best wood choice for drawers is maple wood. It is stable, less expensive compared to other woods on the market and it is durable. Make sure to cut the right size of wood by measuring the drawer space with a tape measure and using the miter saw to cut the length of the wood you will need. Assemble it accordingly by using a hammer and nails or you can also use wood glue. 
4. Restoring old window frames – Old wood window frames when rotten or broken, need to be fixed or restored. Accoya treated wood is usually used for wood window frames because of its stability, ability to retain paint, and durability. Make sure to measure the window frame to replace the rotten wood. Measure the window frame with a tape measure. Cut the correct measurement of the wood with a miter saw. Use hammers and nails to assemble the wood window frame. Window frames can be painted to keep them protected against dampness or sunlight.
5. Fixing kitchen cabinets – Fixing broken kitchen cabinets can be easily done. Use maple, oak, or cherry wood, as these types of wood are durable, affordable, and have a smooth appearance. Measure and cut the correct size of the wood that will be used, by using a tape measure and a miter saw. Sand it with sandpaper to make it smooth. It can be painted or just keep it the way it is if a natural look is preferred.
An important reminder that when performing restoration and repairs at home is always to make sure to prioritize the safety of the individuals involved. Use safety precautions, use gloves, and safety goggles for the protection of the eyes. Always take your time and not be in a hurry when conducting repairs or restorations at home, because it is always better to be safe than sorry to make your restoration process enjoyable and fun without any injury or accidents occurring.