Why There is No Substitute for a Freestanding Bath
by Guest on Apr 12, 2013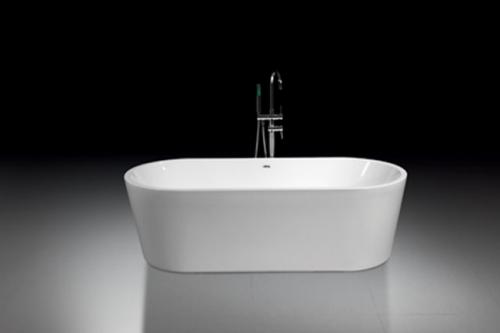 Freestanding bathtubs are very trendy at the moment and it's easy to see why. They look fantastic and give your bathroom a whole new atmosphere. They're also popular because designers feel they provide them with more flexibility throughout the design process. Many homeowners consider a freestanding bath one of their essential additions when renovating their homes and with a freestanding unit at home, why bother visiting the spa? The ambiance they create and the additional relaxation they provide are clear.
Benefits of Freestanding Bathtubs
It takes your bathroom up a level. Even the dingiest bathroom is reinvigorated with a freestanding tub. The unit makes the room feel luxurious and whether you're after an elegant or contemporary theme there are models out there.
As mentioned there is a wide range of different types of the tub to choose from. You can choose from this range to find a tub that fits with your particular style and the fixtures and fittings already in place in your bathroom. Tubs can be bespoke designed in terms of depth, length, and additional features just as Jacuzzi jets or spa features. Keep in mind who will be using the tub, you don't want it too deep if you have children from example.
They come in a range of materials. The most common materials you'll find them made in are cast iron, fiberglass, acrylic, and even wood. Cast iron and wooden models are the most expensive but can equally have the longest lifespan. A wooden tub needs a lot more maintenance than a cast iron one but gives a different feel to your room. Fiberglass options are cost-effective and lightweight but are prone to cracking. Finally, acrylic is the most popular and common option as it is budget-friendly and longer-lasting than fiberglass but it can fade and crack over time. There are pitfalls to every option so it's best to think about your circumstances and work from there.
It's the perfect feature for a large bathroom. Large bathrooms can be unwieldy and feel cold and empty when there's nothing to fill the space. A freestanding tub gives your bathroom a focal point and also with a larger bathroom your designer can be more creative with the tub they design on your behalf or indeed the whole bathroom.
Freestanding bathtubs can cause problems when it comes to plumbing but working with a professional designer means this isn't something you need to worry about and the design team should be able to achieve whatever you want unless your home has specific complexities.
Freestanding bathtubs give your home another talking point and an interesting feature to show off. It's also a great way of ensuring your baths are as relaxing and luxurious as you could imagine. If you have space and the budget for a free-standing bath, there is no excuse not to have one.
Wanda Eagle is a lifestyle and home writer from Cheshire. She has a special interest in Better Baths freestanding baths and their other accessories which appear on the wish list for her dream home.