Bathroom Sink Buying Guide
by James Cummings on Aug 27, 2019
Bathroom sinks may not be as obvious as their kitchen counterparts, but that does not make them any less important. It can be argued that bathroom sinks play a more vital role than the kitchen sink. This is why upgrading or installing a new bathroom sink is one of the best home improvements you can do in your bathroom. You will be amazed at how much a new sink will change the look and feel of your bathroom. 
When it comes to choosing bathroom sinks, one can be tempted to overlook design and appearance; after all, this is an item that will never be seen in public, but there are still a few other considerations to take into account.  
There are so many bathroom sink choices in the market and making a choice can be confusing, however, this article can serve as a simple guide for when next you want to buy a bathroom sink. 
Types of sinks
Top mount or self-rimming:
Top mount bathroom sinks are the most common bathroom sinks available in the market. This is what you will likely find when you move into a new home unless the previous occupants changed them. Top mount sinks are common because they are easy to install, easy to maintain, and cost-effective. In this type of sink, the bowl is dropped into an opening cut into the counter, while the rim rests on the countertop.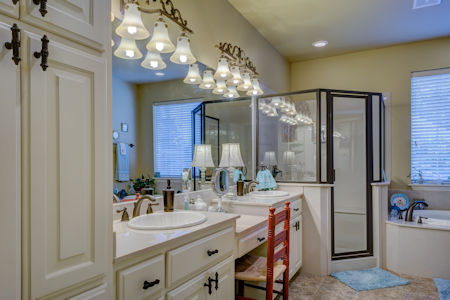 Undermount:
This is a more stylish bathroom sink design. Undermount sinks look similar to top-mounted, but with some basic differences. These sinks are mounted underneath the counter, and instead of the rims resting on the countertop, the edge of the cut-out becomes the rim of the sink, making the sink bowl more accessible. Because of the way this sink is installed, you will have to make sure that your countertop is waterproof. 
Pedestal:
This is the original classic bathroom sink style. These freestanding bathroom sinks sport a tall base, removing the need for a countertop or vanity cabinet. The smallness of this sink's design makes it the ideal accessory for a small bathroom. And even though these sinks are said to be classic, you will still find plenty of pedestal sinks in modern designs.
Wall-Mounted:
Wall-mounted bathroom sinks used to be found primarily in commercial settings, but these days, you will find wall-mounted sinks in domestic bathrooms and powder rooms. Wall-mounted sinks are mounted on the wall of the bathroom using wall mounts or screws, leaving the space below free for any other purpose. This is the ideal sink for a small bathroom space. 
There are many bathroom sink types to choose from; it's best to check out different samples to have an idea of what you may like and then make a decision.
Choosing Your Bathroom Sink
As already established, bathroom sinks come in a variety of styles, designs, and styles. They also come in a variety of materials, but the common materials are porcelain, marble, and aluminum. 
When choosing your new bathroom sink, certain considerations will influence the style and type you settle for. 
One thing you will need to consider critically is the size of your bathroom space. If you have a small bathroom, you may have to make do with either a wall-mounted sink or a pedestal sink. These two options will help you optimize your available bathroom space. 
The most common bathroom sinks are made of white porcelain, but you can also make your choice from a variety of other colors. You should also consider sink accessories. You can choose to go with the regular stainless steel faucet, or you can go with a different option. If the budget is not a problem, you can even opt for the original silver or gold sink faucet, tap, and handles. This will surely give your bathroom an authentic bespoke look. 
Where you have enough space, you can use a sink that incorporates a long marble counter. This counter can also serve as your vanity top. Another option is to consider a bathroom sink complete with vanity, mirror, and storage cabinet. 
Wrapping up
A remodeled bathroom will not only enhance the style of your house but will also boost its market value. Therefore, this smallest room in your house should not be overlooked; and where you don't have enough funds to carry out a complete remodeling, simply changing the sink and a few other aspects of the bathroom will bring about a significant change in the look and feel of your bathroom space. 
There are just so many choice options to choose from. The key is to determine what exactly you need, check your available space, and go for the sink that fits your unique requirements.