Installing Security Roller Shutters
by Guest Post on Jul 6, 2011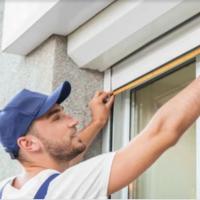 For most people, a home is a sacred thing – a place that houses our most precious belongings and, most importantly, the people we love. Homes need to be well-protected from a range of outside elements, including heat, cold, storms, intruders, and noise. One of the most effective ways of ensuring your home has the appropriate protection is to install roller shutters on your windows and/or doors.
Roller shutters are typically made from aluminum or steel, and are available in any color and some simple patterns. The shutters roll down from a narrow cassette that is fitted within the window or door frame, and can usually be operated manually or by remote control from inside the home.
Perhaps the most obvious advantage of installing roller shutters is better security; because roller shutters cannot be easily pulled away from the door or window, they are an excellent physical and visual deterrent to potential intruders. Although roller shutters may be a good burglar deterrent they cannot guarantee that a theft won't occur; when thinking about the security of your home it's crucial that you have a valid home insurance policy to cover your valued possessions. Having additional security such as roller shutters to protect your home is likely to drive down the cost of a home insurance policy.
In addition to increased security, there are many other benefits that come from installing roller shutters. Insulated shutters can be used to stop the excess heat in summer and the unwanted cold entering your home in winter, keeping inside temperatures stable and reducing your reliance on heating and cooling systems.
Roller shutters can also help to significantly reduce outside noise coming through your doors and windows, and offer complete privacy when needed. Further, roller shutters allow you to control the amount of light that enters your house – if you need to rest during the day, for example, you can block out all or some of the light by simply closing them as required.
On top of that, roller shutters can prevent damage to doors and windows caused by foul weather and storms, and can protect your house from embers entering the home in the event of a fire. The Modern Group is one of Australia's leading suppliers and installers of roller shutters, with over 30 years of experience in the industry and more than 350,000 happy customers Australia-wide.