How to Fix 3 Common Plumbing Issues on Your Own
by Boris Dzhingarov on Nov 18, 2018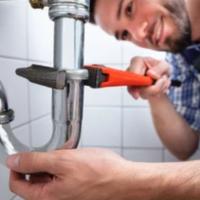 The plumbing system is one of those facilities in a home that we only think about when it starts to malfunction, but once something does go wrong, it usually creates a whole lot of problems for everybody. That's why it's a good idea to get your plumbing checked regularly before things actually break down. Nonetheless, there are ways to tackle minor plumbing issues on your own, or at least till the professionals get there!
Plunge the Clog Away
If you don't have a plunger for the sink yet, it is time to get one because that's going to be your number one weapon against clogged kitchen sinks. If a hefty amount of plunging with the plunger and poking with a plumber's snake doesn't do the trick, it's time to try a drain cleaner liquid. Do keep in mind that chemical drain cleaners may damage the pipes and, therefore, always check the instructions on whether they are suitable for copper/iron/PVC pipes, whichever you have at home. A homemade drain cleaner, made out of vinegar and baking soda can also do the trick and is definitely a safer option than chemical cleaners, but it's not as powerful. Similar steps can also be taken to successfully clear up a clogged toilet.
Replace the Flapper Valve to Address Running Toilets
It has been estimated that leaky faucets are one of the main reasons responsible for shooting up the water bill in most households, but compared to the hundreds of gallons of water that comes with running toilets lose every day, it's almost insignificant. Fortunately, this is a very easy problem to solve, as long as it's a faulty flapper valve that's causing the problem. The flapper is the valve that controls the passage of water from the tank to the bowl and all you need to do is replace it. If that is not the issue, you will need to call in a professional Cranberry Twp plumber to find out what is actually causing the toilet to lose water.
Open Up the Jammed Garbage Disposal
It may seem intimidating, but more often than not, opening up the garbage disposal and cleaning the motor isn't as complicated as one may think. However, before you open it, do try the reset button first to see if that doesn't improve things. If opening and cleaning are still required, use the key that came with it or a ¼" Allen wrench. At times, the blades might be damaged beyond just cleaning and they may need to be replaced.
Sometimes, just a basic knowledge of plumbing isn't enough, and you will need the assistance of a professional plumber to get things back in order. As mentioned earlier, it is important to get your plumbing system checked regularly, before they go out of service for good. More often than not, that leaky faucet or that frequently clogging toilet are signs that there might be more severe underlying issues in need of addressing.