Tankless or Instantaneous Water Heaters
by Guest Post on May 13, 2012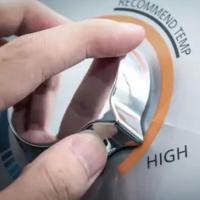 On-demand water heaters regardless if they are tankless or instantaneous provide hot water as it is needed. They do not have energy losses like with storage water heaters.  With this, you can save money from what's not lost in storing pre-heated water. Here you'll find basic information about how they work, whether a demand water heater might be right for your home, and what criteria to use when selecting the right model.
Electric Demand Water Heater
Coldwater flows through a pipe, then flows through and around several pipes through the heating elements, and the result is hot water. Beneath the heating unit, a sink has two pipes,  one for the hot water and one for the cold water intake. Both pipes are required for the heating unit.  These are installed best nearby where the hot water use is most frequently used.  Electrical considerations for 110 or 220 volts is also a requirement.
How Do On-Demand Water Heaters Work
By definition, demand water heaters don't require storage tanks to heat water. Therefore, they avoid the expense of traditional standby heating units. When a hot water tap is turned on, cold water travels through a pipe into the unit over the thermal heating elements. Depending on the model, an electric element or gas burner heats the water. The result of the demand for water heaters is to deliver a constant supply of hot water bypassing the need for storing hot water. Hot water doesn't have to wait to refill a storage heater and be heated.
Disadvantages
One disadvantage is a demand water heater's output limits the flow rate.  You can expect demand water heaters to provide run at a rate of 2–5 gallons (7.6–15.2 liters) per minute.
Even the largest model sometimes cannot supply enough hot water for multiple uses in large households at the same time like taking a shower and running the dishwasher at the same time. If this is a problem for your larger household, you can install additional demand water heaters connected in parallel for simultaneous demands or install separate demand water heaters for appliances.
Other applications for demand and simultaneous water heaters include the following:
Hot Tubs and Guest Bathrooms
Appliances (dishwashers or clothes washers)
Solar water heating system Rainy Day Support