4 Professional Home Plumbing Tips and Ideas You Must Know About
by Guest on Sep 12, 2019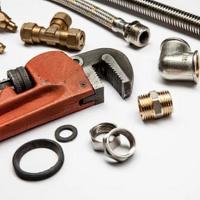 It can be a relief to own your own home instead of an apartment. There's no rent to pay, you can decorate your home how you like, and you don't have to bother a landlord to get things fixed when they break. However, owning your own home means that if something does break, the responsibility is squarely on your shoulders to get it fixed.
You could hire a plumber to get the job done and pay hundreds of dollars, or you could learn these four simple tricks and tips to keeping your pipes in order so that you don't have to shell out the big bucks.
Clogged Drains
It could be hair, grease, or food in your kitchen sink. At some point, you're bound to get a clogged drain. Instead of getting frustrated and reaching for the phone, there are a few things you can try to unclog your sink.
The first thing you can try is a plunger. Yes, we mean your toilet plunger. Fill the sink partially with water and then place the plunger over the hole of your sink. Start working it vigorously for a few minutes. If debris comes out, toss it out and see if the water drains. If it still drains too slowly, then keep trying the plunger some more until you're satisfied.
Secondly, you could try using a drain cleaner you get at the store. These are usually thick viscous liquids or foams that are designed to work the clog through the rest of your pipes so that water can flow properly again.
Only after you've tried these two solutions should you consider calling a plumber.
Leaking Faucets
That incessant drip, dripping sound is not only irritating when you're trying to concentrate, but it can cost you some money in wasted water. If you find that your faucet is leaking no matter how hard you turn the tap, then it could just be a damaged washer. Water flows through your home under pressure, and the washer keeps the pressure constant so that it doesn't come through the faucet when you don't need it. Replacing the washer should be all you need for your problem to go away, but if it persists then you should call a professional.
Low Water Pressure
You turn on the shower and there's just a dribble of water coming out of your showerhead. That's a sure-fire sign that you have low water pressure. Calling your town's water department should be your first go-to, but if they've said that there shouldn't be anything interrupting your flow, then it's time to take a look at the pipes in your home.
The first problem it could be is a buildup of sediment along the aerators of your pipes. Simply remove the aerators, scrub them gently with an old toothbrush you're no longer using, and submerge it into vinegar. This will dissolve the sediment so that water flow can improve. If this doesn't work, you should call a professional plumber.
Toilet Constantly Running
It can be annoying to have your toilet continuously running long after you've already flushed it. That's wasting a lot of water and the sound can drive you up the wall. Jiggling the handle may fix the problem, but not always.
In most cases, what you need to do is replace the flapper valve. This is what stops the water from flowing into the toilet. Buying a toilet repair kit will take care of the problem, which isn't that hard to install. If your problem centers around a leaky toilet, then you may need to invest in a toilet flange extender kit instead.
Taking care of the leaky pipes and other problems in your home by yourself may seem like a daunting task, but with a little bit of patience and research, you may find that it's actually quite easy. But don't be afraid to call a professional if you find any task too daunting.