Should You Opt for Trenchless Sewer Repair?
by Joe Goldstein on Aug 6, 2019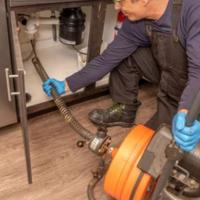 Dealing with sewer problems isn't a ton of fun. At best you might have a bad smell coming up through your drains, or a tree growing into your pipes. At worst you might have a backed-up sewer or a fine from the city.
Whatever your problem is, trenchless sewer repair offers an alternative to standard sewer repair that has the potential to save you time, money, and a lot of headaches.
But trenchless sewer repair isn't right for every household or situation.
What is Trenchless Sewer Repair?
Trenchless sewer repair is a technique for repairing (or replacing) your sewer lateral without digging a full trench. A plumber will dig an access hole at either end of your sewer lateral, feed in a purpose-built machine, and install the new pipe inside your old one. This installation process can either cover your old pipe from the inside (pipe relining) or destroy it and replace it with a larger pipe (pipe bursting.)
While trenchless sewer repair has quickly become the norm in some parts of the U.S., it still has a long way to go.
Trenchless Wins in Most Categories
Let's cut right to the chase: trenchless makes sense for the majority of situations. Here are a few highlights.
Trenchless is faster. While trenched sewer repair jobs often take several days to a week, a trenchless sewer repair can often be completed in an afternoon or two.
Trenchless is usually cheaper. The biggest cost involved with sewer repair is labor, not parts. If you don't need four extra plumbers on site to tear up your lawn, that's money in your pocket.
Trenchless damages your yard less. Trenchless sewer repair doesn't require you to extensively tear up your trees, gardening, and lawns. It just requires those two access points.
Trenchless lasts longer. The cured-in-place pipes used with trenchless repairs are designed to last up to 50 years, so you won't have to sacrifice quality for convenience.
When Does Trenchless Not Make Sense?
Trenchless sewer repair seems like an easy choice, but there are always exceptions. Here are some of the reasons you might want to (or need to) go with trenched repair instead.
Is it a short lateral?  If the distance from your home to the curb is short, the trench could be too, which means there isn't as big of an advantage to going trenchless. However, different cities have different regulations when it comes to the cutoff line for homeowner responsibility. For example, some homeowners are responsible for their sewer line up to the property line cleanout, while others are responsible all the way to the mainline.  
Are tree roots the problem? Root invasion is a serious problem for sewer pipes. Tree roots commonly seek out sources of water, because that's what the trees need. While replacing your sewer line with a trenchless one can delay that growth, there are other ways to keep roots out of your sewer lateral.
Is the slope intact? Sewer laterals rely on gravity to keep things moving. If your sewer line no longer slopes gently downwards, maybe thanks to an earthquake or construction damage, your new trenchless sewer line won't work much better than your old one. You'll need to let a plumber manually reseat the line.
Can you find a good specialist? Trenchless sewer repair is still a specialty service, so every plumber isn't going to have the skills or equipment to offer it. You're better off hiring a good contractor to perform a trenched repair than a bad one to perform a trenchless.  
No Solution is Perfect
While trenchless sewer repair is a big step forward from trenched repair, no solution is without its drawbacks. Be sure you know the real pros and cons before deciding on trenchless, and don't be afraid to ask around for second opinions before spending that kind of money.