All About Valves
by Guest Post on Nov 18, 2011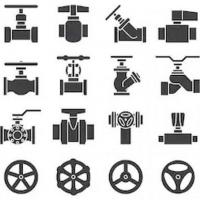 Valves are an indispensable part of any modern building. By opening and closing, they can control the flow of air, water, or some other liquid through the pipes and prevent the pressure from becoming too great.
There are many different types of valves, each designed for a specific purpose. These include the ball valve, butterfly valve, diagram valve, solenoid valve, check valve, piston valves, needle valve, and choke valve— and this article will discuss each of them, its design and its use in the home.
Ball valves
A ball valve is the easiest to turn off— all one has to do is turn it 90°, rather than having to turn it many times. For that reason, they are used in places where the flow needs to be shut off tightly. Because it is capable of withstanding high temperatures and pressures (482° F and 1,000 bars respectively), as well as very durable, the ball valve is one of the most versatile types of valves ever made. The flow through a ball valve is controlled utilizing a spherical disk with a port running down the middle. When the valve is open, the port is parallel to the valve's ends. Ball valves commonly serve as flush valves in toilet tanks; in oil and gas pipelines; and in some pipes.
Butterfly valves
A butterfly valve also has a disk as its closing mechanism, but it is flat rather than spherical. Opening the valve requires turning this disk one-quarter of the way around. Such valves are often preferred to ball valves because they are lighter and less expensive. Commonly used types include the electric and the air-actuated butterfly valve. In the former, the disk is turned on and off by electricity. An LED light indicates the current status of the actuator. Some of these valves have a digital positioning system (DPS) that uses a control signal to position the disk. In air-actuated valves, the disk is controlled utilizing a pneumatic pilot system. They are among the best for many purposes, as they have higher rates of flow and can withstand higher temperatures and pressures.
Another commonly used type is the spring return butterfly valve, which is equipped with a spring mechanism that closes the valve if the air pressure drops below a certain level. The spring return type is often used on oil drilling rigs; in workboats; and in farming, construction, and mining equipment.
Pipe valves— a category that also includes faucets, drains, and other things— regulate flow within pipes.
Other types of valves
The valves discussed so far are all collectively called quarter-turn valves. There are many other types. Check valves— also variously known as non-return, one- way or clack valves— are used on many household items, including irrigation sprinklers, rainwater harvesting systems, and homemade snowmakers. The fluid enters these valves through one end and exits by another. They work automatically. Needle valves, which have plungers shaped like needles, are useful in carburetors and in water heaters, where a narrow, precise flow is needed. And thermal expansion valves, with their complex layouts including a temperature-sensing bulb, have found application in refrigeration systems: They control the flow of air to the evaporator.