Try These 4 Ideas if You Want to Improve Your Condo
by Guest Post on Nov 29, 2017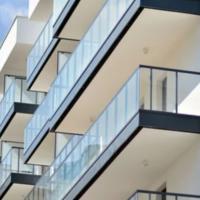 Living in a condo isn't like living in a home. You typically have less space to work with, and you are restricted by the landlord as to what you can do to modify the space. Because of this, many people find themselves living in a condo that isn't as nice as they would like. If you would like to change that and take a step towards making your condo more like luxury condos, give the ideas below a try.
Choose The Right Furniture
The first thing you can look at is the furniture in your condo. You are likely short on space, so you'll want furniture that is compact, and can possibly double as a storage container. For instance, you could get a footrest for your couch that also opens up to hold blankets and pillows. You don't have a lot of storage space within a condo, so you need to find ways to work around this.
You also want to get furniture that fits your décor. Don't pick up just anything because it's cheap or the right size. Really take your time to find the right pieces to match your condo, as the right furniture can make or break a room. If you can't find the right piece, consider getting a piece that is close to what you want, and then making the changes yourself (for example, painting a bookshelf a new color).
Decorate With Making Permanent Changes
When you rent out a condo, you don't really own the space. That means you can't make changes that are permanent, which reduces your options when it comes to decorating. For instance, you're likely not allowed to knock down any walls, install new light fixtures, or put holes in the walls to hang up pictures. So with this in mind, you need to make design choices that won't alter anything permanently.
You could start by placing some rugs down if you don't like the floors. This is a great way to make a room more comfortable and stylish at the same time, no matter what kind of flooring is already there. Another option is to use sticky hooks rather than nails to hang pictures. These are easily removed, and won't put unseemly holes in the walls.
Paint The Walls
In some condos, your landlord will allow you to paint the walls. You're going to want to get permission to do this first, as every condo is different. If you are able to get permission to paint the walls, your next step is to choose the right color. There is almost an unlimited amount of options when it comes to room color, so it really is up to what you prefer. Choose something that fits the mood you want for the room, and consider pairing different colors based on the color wheel.
After spending a weekend painting a room, you'll be surprised at how much of a difference it makes for such a little amount of money. You may need to re-paint the condo walls when you leave for good, but if you plan on staying there for at least a few years, then painting is a solid option for upgrading your condo.
Upgrade Your Condo's Tech
Finally, one of the best areas to upgrade your condo is through the technology you have inside it. In many cases, you can upgrade your tech options without permanently altering the condo, and give yourself a range of new capabilities and features. For instance, by installing some smart light bulbs, you can control the lighting in your condo from your smartphone.
Another option is to get some of the new home voice assistants – such as Alexa Echo and other home automation products – and use them throughout the condo. With these devices, you can check the weather, play music, order groceries, and even control your lights or television. They are relatively inexpensive, but add some great features to your condo.
Besides installing smart technology like home assistants or light bulbs, you can simply purchase some newer equipment. Get yourself a new television, a tablet, some Bluetooth speakers, or the latest gaming console. All of these would be welcome additions to your condo and will help to bring it into the 21st Century.
Upgrading Your Condo On A Budget
Just because you can't afford a luxury condo, doesn't mean you can't bring your current condo a little closer to what you're looking for. It is entirely possible to transform the rooms while on a budget, and in the end, you'll have a condo that you love. You just need to explore your options, learn what is allowed within your condo, and be willing to spend a little bit of time and money.