Four Ways to Make Improvements That Will Sell Your Home
by Guest on Nov 26, 2017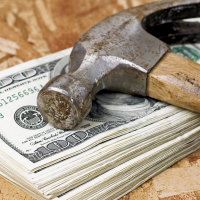 Anyone planning to sell their home wants to know what home improvements are worth considering. Obviously, you don't want to spend a lot of money to correct everything wrong with your home, but making a couple of much-needed changes will go a long way in bringing your home up from "okay" to "must have". These changes don't have to involve major investments. Even if you are selling directly to another party yourself, or to a company that advertises "we buy houses", you'll feel confident with the adjustments you've made, knowing your home won't spend a long period of time waiting for a new buyer. Check out the four best improvements to make on your home for success.
Kitchen Appliances
Everyone loves a kitchen that has quality appliances. Many people don't want a kitchen that isn't armed with the essentials that make life easier. If your kitchen doesn't have the following items, consider adding them before listing your home on the market or selling it:
Folks who never would consider purchasing your home, because it lacked something they need and use daily, will give it a second thought. Depending on sales you find or the type of appliances, you'll find deals that won't hurt your bank account, while intriguing and satisfying potential buyers. Before you list your home, give your kitchen a once-over. Kitchen appliances help sales and even increase the overall value of the home.
Update the Lighting
The lighting in your home may not be presenting it in its best light. If you have old lighting, blubs that are broken, or lighting that doesn't have a modern appearance, you'll lose out on potential buyers. Take inventory of your lighting, and see what changes are possible. You could choose a couple overhead lighting fixtures that offer a modern look, or make sure all the lights in the bathroom are fixed before putting the home on the market. Even changing the types of light bulbs provide a better effect that appeals to buyers.  Consider checking and improving the lighting in key areas that your potential buyers will spend a lot of time in. Changing kitchen lighting, and lighting that is present in public rooms will make a positive difference in gaining interested parties and making a sale. Updating lighting is not expensive, and is an improvement you can easily do, even if you need a little help from an electrician.
Consider Easy Updates to The Bathroom
Your bathroom can have a whole new look that is beautiful and appealing-and makes buyers think twice before walking away. Creating a theme for your bathroom, or adding in special extras that hint at calmness and relaxation is helpful for any quick and easy fix prior to selling. You can do this by:
Putting plants in
Having matching towels and bathmats
A picture or two or another piece of décor in the bathroom
As you do this, keep in mind it's better to have a minimalistic theme, rather than going overboard. Folks can always add more later if that is their taste, but simplicity in decorating makes a lasting impact that won't be forgotten anytime soon. You can choose to apply this idea to all the bathrooms in your home, but if you must pick one, select the master bathroom. It is a major selling point for those shopping for a new home.
When in Doubt, Go for Simple
When you aren't sure what to do with your garden, living room, or another key room, plan on how to make simple adjustments that will change the way the room looks. You don't have to make major improvements or buy something expensive. Have broken or old furniture removed. Plant only a few flowers in your garden that is easy to take care of. Simple adjustments that make your home look nice without dropping a lot of money are key in getting it to sell. Homeowners will see space and areas they can work with, instead of eyesores or problems that need to be corrected.
Making upgrades to your home for a quick sale doesn't have to be difficult. Pick a few key rooms to focus on improving. Try to go through the house with the eye of a buyer, assessing what improvements you like, and what doesn't work. No matter what your home looks like, a clean, modern, simple look goes a long way in encouraging buyers to take a second look and decide they want to make an offer.