3 Things to Consider Before Building a New Home
by Boris Dzhingarov on Mar 19, 2019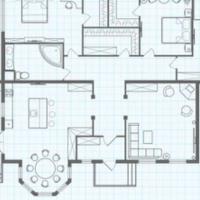 Building a new home is definitely an exciting experience, but it's also one of the biggest investments you will likely ever make.  In order to ensure the process goes as smoothly as possible and doesn't end up thousands of dollars over budget, it's vital that you plan from the start and make focused building decisions that will benefit both you and your hired contractors.  Below are some of the things you should consider before building a new home.
1. Your Lifestyle
If you neglect to consider your lifestyle before building a new home, you could end up making costly design mistakes that will cost you a lot more in the future.  As one example, do you host a lot of guests at your house?  If you do, you'll likely want to ensure you have a guest bedroom for them to stay in.  Also, what about your hobbies and interests?  If you enjoy cooking for others, will you need a specially designed outdoor space where you can cook in the summer?  Maybe you'll want to incorporate a games or cinema room too.  If you plan this early, you can include it in your design rather than adding to it at a later date.
2. Your Finances
Financing a new home build is different from buying a house that's already standing, so you'll need to crunch the numbers to work out what you can realistically afford.  You can either talk to a mortgage provider first, or a builder, but remember that not all banks offer construction loans so you may want to hire a mortgage advisor to help you through the process.  Your lender will also want to see your progress throughout the process.  Remember, too, that new builds can come with additional costs that you may not have expected, so it's wise not to use your whole budget on the building, as you may end up with an uncompleted property.
3. Your Contractors
Finally, you also want to think about the people you will need to hire to construct your property.  At a minimum, you'll need builders, electricians, plumbers, gas engineers, and roofers.  Some building firms will be able to source all of these people for you, and this may be a better option than hiring everyone separately.  Make sure to check their testimonials and past work before going ahead, and also ensure that you have a contract that clearly details what is expected of them and the costs.  You'll also want to look into things like TruckXpress restroom trucks to ensure that your building team have restroom facilities while working on the project, as well as things like the weather and how that could affect your build.
Even with every detail of the process planned out, it's wise to prepare for hiccups as it's rare that a building project goes off exactly as planned.  Don't be afraid to ask the professionals for advice or to take a step back to think about what you want.