Can I Sell My House with a Leaky Roof?
by Thomas Myers on Oct 28, 2021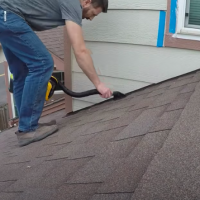 The answer to this query is YES. It is possible to sell a house with a leaking roof, but it's always essential to evaluate some factors before making such a decision.
What To Know About A Leaking Roof?
Every house owner can test that at some point, roofs end up showing some weak clevises that end up leaking. One might ignore dripping water in the house, but this would be the most unpleasant thing if it gets to the extent of creating molds. Molds expose one to health risks and generally tarnish the house's appearance to an ancient historic structure.
Generally, a leaky roof gives owners sleepless nights as they struggle to get it done with professional contractors. At some point, house owners tend to re-think selling the house rather than having it repaired. Some questions raised, such as "Can I sell my house with a leaky roof?" keeps popping up as the owners wonder how to convince their clients to buy a house with an unrepaired roof. It is somehow challenging but very possible. If you have been struggling with such issues, this article will help you learn the best options to choose whether to sell or have immediate action of repairing the roof.
We will have a quick review of some pros and cons of selling and repairing a leaky roof to help you determine the best options.
Pros And Cons To Consider Before Selling A House With A Leaky Roof
The following tips help one make a clear decision on whether to re-own or proceed to the home's sale. It's always important to weigh everything carefully and keenly before making any decision.
Pros
Selling a house with unrepaired roofs helps you to save on repair expenses. It applies best if you don't have ready cash to have it done.
Making the sale helps to reduce time on making the full diagnosis in the affected areas, especially for anyone who doesn't have time to manage construction repairs.
It also favors anyone managing the house at a far distance since repairing the home needs closer attention; otherwise, you might incur more costs on that.
Cons
The sale is made almost at a lower or throw-away price.
It takes time to have the house sold.
It limits the sale of the house to only cash buyers but not under mortgages.
Lack of enough paperwork in the contract of sale, risking some follow-ups from the seller to the buyer, especially on clearing up the purchase balance.
How To Sell A House With A Leaking Roof
Get A Suitable Buyer.
You can opt to have several approaches to get buyers for your house.
By using online sale platforms, create an advert indicating "selling my house fast." It attracts cash buyers from all regions who will be ready to make proposals on your site, by mail, or via calls and text. But with this approach, it's always essential to make vetting for all cash buyers to protect your contract of sale.
You can also approach real estate professionals who will connect your sale to local real estate investors.
Disclosure of All The Defects To The Buyer.
"Honesty starts with you"; this should be the first attribute before engaging in a sale contract. A good sale prevents the two parties from engaging in messy court issues that consume a lot of time and money on unnecessary fines.
Conclusion
After going through all the above tips and having doubts about whether you can sell your house with a leaking roof, it's now evident that you don't need to worry much. Make a quick decision and start your sales journey. Make haste and make a wise decision, bearing in mind that leaving a leaking roof for a very long time without repair or the need to sell the house will eventually lower the house's value.