5 Types of Roof to Choose from While Building Your House
by Rohit on May 1, 2018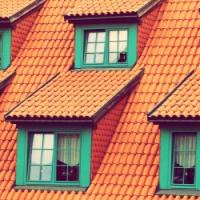 Choosing the perfect roof for your new house or retrofitting an existing one can be quite tricky. The roof, after all, isn't just a sunshade and a lot of factors go into deciding the type of roof most suitable for you. They should be clearly balanced between providing proper security, providing ample spacing, and at the same time looking good to see from the outside.
The weather conditions in your area will help you further decide the type of roof you need and also help you save energy by not having to exploit it on heating or cooling the house since your roof is already helping you with it.
1. Gable Roof
Before we select the perfect roof based on your requirements, it is important to know all the pros and cons of the roof. A Gable roof is one of the most common types of roofs we come across. It is triangular in shape and is easy to recognize and also build. It is most suitable when you do not want any standing water or snow and can use the extra space for a vault or an attic. However, it is not advisable for places with high wind speeds as it can collapse.
2. Hip Roof
This one is ore meant for areas that need to withstand sow as well as high-speed winds. It has slopes on all four sides forming a ridge at the top so, snow and water stranding wouldn't be a problem. They are stronger, sturdier, and more durable. Though this comes at an extra cost, costlier than the Gable roof, given its more complex design but is still a better buy given its rigidity. These roofs, however, are more prone to water leaks in the valleys if the roof is not properly installed.
3. Flat Roof​
This is a very common type of roof in areas with less rainfall and snow. Flat roofs are mostly employed for commercial buildings but are also great for residential as it offers extra living space on the terrace where you can make a terrace garden or a small penthouse room. Solar panels can also be placed on top without being very visible. They are cheaper to build than most others. They are highly unadvisable for areas having high rainfall and snowfall which will lead to water leakages and snow clogging respectively.
4. Curved Roof
For those who have a high time deciding on whether to go for a sloped roof or a flat one, the curved ones might look like the best option. The amount of curve can be customized according to the requirements by giving it more arch in areas that require water to flow off quickly or less arch having other priorities. Moreover, they are aesthetically very pleasing to look at and make for a beautiful outer view. It can also withstand high wind speeds and heavy snowfall comfortably. It will also offer some good news to those who are in roof construction jobs since this one will go a little heavy on your wallet to build and maintain.
5. Butterfly Roof
This one is considered to be more of an environment-friendly roof given its benefits lean towards doing better to the environment. They are V-shaped which gives extra room for larger windows allowing more natural light hence, saving energy on heating bills during winter. The V-shape helps collect rainwater and promotes rainwater harvesting in places with water scarcity. While it has to offer a great deal, it is also priced pretty high given the complexity of its design. Not just that, but the roof also required waterproofing to be done to avoid water leaks. Nevertheless, if the cons are satisfying this should be worth it.
Whatever type of roof you deem to be the best fit for you, security and its rigidity should always be prioritised over looks. Proper maintenance and repairs are must no matter what roof type you choose. Now that you are aware of the few best types of roofs out there, it should be less of a trouble finding the right one.