Valuable Tips to Prevent Frozen Propane Tanks
by Guest Post on Apr 24, 2018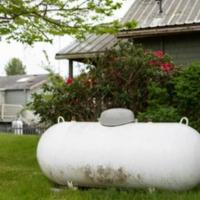 Millions of Americans make use of propane in both personal and industrial applications.  When the temperature plummets to negative degrees, a propane tank becomes incredibly vulnerable to freezing.
This clean-burning, inexpensive and indigestible gas is incredibly popular for a wide variety of heating purposes. This is especially true in wintertime when things get ice-cold. You don't want your propane tank to suffer from the chill in the air as the season wears on.
So how do you prevent this from happening? Fortunately, it's easy to keep your tank from freezing up. Some basic maintenance and attention to detail will keep your tank working as it should.
Keep your propane tank as full as possible.
As the temperatures descend, the level of propane in your tank is likely doing the same. The colder it is outside, the more gas that people are willing to use to warm up their homes or businesses. This can spell trouble for your tank.
As the amount of propane in your tank decreases, so does the pressure that resides inside of it as well. When the pressure drops due to cold and a low level of propane, freezing can occur.
Remove snow and ice from the tank.
Using a soft broom or similar kind of outdoor-purpose brush, make sure to eradicate all snow and ice accumulation from the outside of the tank. Don't use anything made of metal that could scrape or otherwise damage the tank.
Consider a heating method to keep things up to temp.
There are numerous heating methods available to help you keep your propane tank warmer, and therefore fuller, for longer. These methods include:
Heating units are designed especially for heating cylinders.
Complete coverage and consistently-applied warmth are necessary in any heating method that you choose to keep your propane tank warm.
Keep the valves clear of snow.
This can be done by simply brushing off the snow most of the time, or providing some kind of cover to minimize the valves' exposure to the elements. Also, refrain from using a snowblower or shoveling snow into the area of your propane tank.
Never, ever do these things.
Propane is a very safe gas to use, but it is still flammable. Never use anything that utilizes an open flame, like a blow torch, to try and warm your propane tank. Some people have done this with no harm done, but there is no guarantee that you'll be safe.
You should also avoid any kind of uncontrolled heat source or any heat source that was not developed with use around flammable gas in mind. Space heaters are a bad idea, for example, as is using hot water for the purpose of heating your tank.
An uncontrolled overheating of your propane tank can become very dangerous very quickly and even cause a fire.
Even though propane is much safer than many other gases that could be used for in-home and industrial heating applications, it is not completely foolproof. It poses dangers that, while minimal, could still result in human and property damage if mishandled.
Keeping your tank as warm and as full as possible is key to freezing prevention. If you keep this in mind and only use heating solutions designed for use around gases like propane, your tank freezing over is one thing that you won't have to stress much about this winter.