Build a Fence to Add Value to Your Home
by Jane Brown on Jan 26, 2019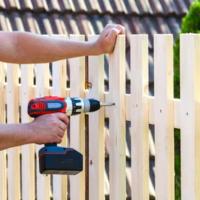 Improve Your Home
There are several home improvements that you can do to your home. Adding a fence or a deck is a great way to add value to your home and will also make it more enjoyable for you and your family. You can also entertain guests if you add a deck because you will have more room to do it. If your home is too small to entertain a large group of people, a deck is a great way to add some extra space for entertaining as well as everyday living.
The Benefits of Building a Fence
Building a fence is a great way to add privacy to your yard, and it can also keep our pets and children safe. It is a great way to block out the neighbor's yard, and it can serve as a windbreak.
When it comes to choosing a fence, there are many different materials and styles to choose from. Trex fencing is relatively new and it is gaining popularity because of its many qualities. It is eco-friendly and is made of 95% recycled materials, including plastic fibers and wood. It is natural-looking but will last much longer than a wood fence since it is not prone to rotting. It is also available in a few different colors such as Saddle, Winchester Grey, and Woodland Brown.
There are also more exotic types of fencing material such as bamboo that even grow every year. This type of fence isn't ideal for all climates but is sure to add style to your home.
There Are So Many Options to Choose From
If you choose a wood fence you can paint it to match your home. If you decide to go with a material such as PVC you won't have to paint or stain it. The type of fence that you choose will depend on how much time you want to spend maintaining it. No matter what type of fencing material you use, it will serve well as a privacy fence unless it is a chain-link fence.
A chain-link fence can also serve as a privacy fence if you grow certain climbing plants on it, but it is mostly designed to keep children and animals in your yard. Having a fence surrounding your home or yard will also offer a level of security and will make it more difficult for possible intruders to get near your home.
The Many Benefits of a Fence
Having a fence can also help to cut down on the noise as it will act as a buffer between your home and the busy street or business that is nearby. If you are planning on selling your home in the future, a fence is a great selling point, and many people would prefer to have a fence than not. Having a fence is also a great way to define the boundary of your property so that it is clear to your neighbors. It can also avoid any disputes about where your property line ends if your neighbor is planning on planting trees or buildings near your home.
A fence can make your yard more livable and enjoyable as you will have the privacy that you want and some shade from the sun. It is a necessity if you live very near your neighbors and would like to have a little more space. It is much less expensive to build a fence than it is to move to a new home. You can also build a fence around certain hazards such as a pool so that children or animals do not fall into it and drown.
Know the Costs Before You Begin
If you are considering building a fence on your property, you can get a quote so that you will know beforehand how much the project will cost. If you are working within a specific budget, you can also tweak your materials and the design a bit to fit the total cost of the project. For example, you can go for a fence that is not as high as you had originally planned, but that still offers a good amount of privacy.