How to Choose the Right Plunge Cut Saw
by Guest Post on Jan 31, 2011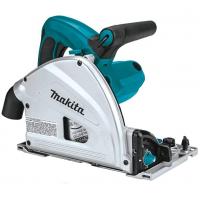 Plunge cut saws are a must-have for any serious carpenter. When a project calls for cutting a straight line, pairing a quality plunge cut saw with a guide rail will get you excellent results. There are three key factors to consider when selecting your plunge saw: quality, power, and safety.
Quality
I am a big advocate for quality tools. Too many times I have seen quality sacrificed for price… and time and time again, the tool breaks prematurely, and the woodworker is forced to purchase a replacement. Besides being a pain, it ends up costing more in the long run. If you truly need your tools, you should not sacrifice quality. Look for good design, superior materials and construction, and a solid warranty. When you test the saw, check for tight tolerances and a smooth plunging action. Make sure the cuts have splinter-free edges and that there are no burn marks left behind.
 There are plenty of times when a brand name is not an important factor to consider, but this is not one of them. Brand reputation is important. Festool Tool is a personal favorite of mine, but I recommend doing your research. Ask experienced carpenters if you know who they are using and whether they are happy. Check around the web and see what people are saying on the message boards about the brand's service department so you want to buy from a manufacturer that stands behind its tools.
Quality rails are important too. They should be strong, light, and easy to adjust.
Power
This overlaps with quality, but a strong, reliable motor is important when selecting a plunge cut saw. Consider the kinds of material you will be working with most often. If you frequently work with thick, hard woods, more power will be required. If you are working with lightweight materials, a smaller, lighter saw will work just fine. Power ratings can be misleading because some less reputable saw manufacturers only list the peak power of their tool. You need to know the saw's "continuous power rating under load." That will tell you the true power of the saw while in use.
Safety
Make sure your saw has anti-kickback protection.
I also recommend choosing a saw with Multiple Material Control (MMC) because it offers additional safety as well as performance. MMC allows you precision control over speed and protects the motor from overload and temperature. It also allows you to choose the optimum speed for the type of blade you are using.
About the Author: Maria Polidoro is the owner of Ace Tool Online, a leading dealer and service center for electrical power tools. Ace Tool offers over 70 major brands of hand and power tools including Milwaukee saws and Festool power tools.