Signs It's Time for Replacement Windows
by Kenneth Eres on Nov 18, 2019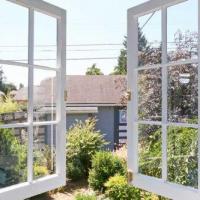 Replacement windows are an investment for any homeowner, but their benefits far outweigh the costs! Today's energy-efficient windows provide added insulation against outside heat, cold, humidity, and even noise, creating a comfortable environment inside your home. The shatter-resistant glass is also an excellent option for homes with active children or those located near busy roadways where flying gravel and other debris are frequent and a hazard to your home's windows.
While there are numerous benefits to investing in replacement windows for your home, many homeowners put off getting new windows for as long as possible. While only you can decide when it's time to schedule window replacement for your home, you might note some signs that it's time to contact a window installer near you.
When It's Time for Replacement Windows
Broken window panes and sashes that stick indicate that it's time for replacement windows for your home, but there are many other surprising indications that your home is ready for new windows! Contact a window installation expert near you if you notice any of these signs around your house:
Condensation on window glass indicates the transfer of heat and cold, allowing condensation to form. Thick, double-glazed, or triple-glazed windows block outside heat and cold, keeping a home's interior comfortable while reducing the risk of condensation.
Drafts around windows usually indicate that the glass is loose from the sash or that the window frame has tilted and sagged away from the home's framework, creating gaps. New windows fit their frame and the home itself snugly and securely, eliminating drafts.
Windows should never rattle, even in high winds. If you notice your window panes rattling, and especially when it's not even windy outside, this often means that the panes are loose from the sashes or are especially thin and move easily. Thicker panes provide added insulation and won't be a noise nuisance even during strong storms.
Your home's windows provide insulation against outside heat and cold so if your home is always hot and stuffy, cold and drafty, overly humid, or otherwise uncomfortable, it's probably time for replacement windows for your home.
Exterior glass suffers microscopic etching and scratching over the years. These crevices collect dirt, dust, and other debris that are virtually impossible to wash away. If you notice streaks and other marks on window glass that don't come clean even with a professional window washing, it's time for replacement windows!
Hidden Benefits of Replacement Windows
Increased insulation against outside heat and cold is the most obvious benefit of getting replacement windows, but note that new windows also provide noise insulation, as said. If you're bothered by noise from a nearby roadway, school, public venue, or even nuisance neighbors, new windows can mean a quieter interior for you and your family.
Tinted windows also help to block bothersome sunlight and other outside lights, a vital consideration for bedroom windows that face streetlights or nearby roads. If someone in the family suffers from migraines and other health concerns, tinted windows can mean added comfort and alleviation from their headaches and other such symptoms.
Larger windows also bring more sunlight and fresh air into a home's interior space. If you appreciate added light in your home's interior or enjoy leaving the windows open for more fresh air, consider getting larger replacement windows for a more welcoming and enjoyable interior space.
Rather than paying for annual window cleaning services, you might also consider tilt-in windows for your home. Tilt-in windows allow you to reach the exterior glass from the safety of your home's interior so that you can clean that glass on your own and forego the cost of a professional window cleaning service. Being able to clean exterior glass safely and when needed means having clean, sparkling windows year-round without the cost of a professional contractor!
Upgrading the Style of Replacement Windows for Your Home
If it's time for replacement windows, it might also be time to upgrade or update their style. Single-hung windows, with a lower sash that lifts up and down, are typically the most common window style today but it's not always the most attractive. Single-hung windows also cut off light and air circulation, so they're not always the most comfortable! Consider some other window styles you might choose for your home:
A casement window has hinges on the side and opens outward, like a door. These windows offer maximum fresh air circulation and sunlight, as well as a cozy cottage look and feel that adds lots of charm to your home's style.
Awning windows open at the bottom, with hinges at the top, like an awning. This window style allows you to keep windows open even during rainstorms, as the angled window causes rainwater to slide away from the windows and stay outside the home! Awning windows also allow in fresh air while keeping away strong breezes, a perfect choice for homes in especially windy areas.
Sliders or sliding windows, as the name implies, have side-by-side panes; one or more panes will slide left and right to open and close. Sliders are an excellent option for controlling airflow into the home and for allowing a more unobstructed view of the outside.
Bow and bay windows have several panes that jut out from the home, often with a seating area under the window inside the house. These windows allow for added sunlight and create a cute, cozy seating arrangement or area for displaying houseplants and other items under the windows.
Picture windows don't open and close and are an excellent choice for areas of the home where you need added sunlight or a nice view of the outside but don't need to open the windows, or cannot access them for opening and closing. For example, you might opt for a large picture window in your living room or over a soaking tub in the bath.
If you're not sure about the right option for replacement windows, talk to a window installation contractor near you. He or she will typically be able to recommend an updated style that will add comfort to your home's interior space while also adding maximum insulating properties and curb appeal!