Take a Load off with a Beltless Tool System
by Guest on Feb 8, 2011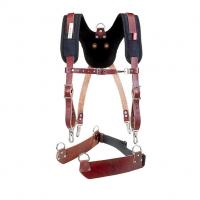 A tool belt is a quintessential piece of equipment for any carpenter or woodworker. Accessibility to a variety of tools within arm's reach allows for a convenient and efficient workflow. When we think of tool belts, the traditional tool belt worn around the hips most often comes to mind. But the wide availability of beltless tool systems gives construction professionals and DIY enthusiasts alike more tool organization options than ever.
For some, wearing a regular tool belt for extended periods can lead to fatigue and pain in the lower back and hips. Belt free tool systems such as suspenders and vests are designed to shift the weight such that it is distributed evenly and places less strain on these parts of the body. The redistribution of weight from the hips and lower back can make carrying tools more comfortable.
Many beltless tool systems are designed so that optional tool bags and cases can be attached and detached depending on the needs of the wearer. This functionality provides the flexibility to carry the right amount of tools for any job, without having to carry excess weight unnecessarily. Suspender and vest tool systems have more space for pockets and pouches than traditional tool belts and can be less bulky as well.
Whether a traditional tool belt or a belt-free tool belt system is the right choice for you depends on your needs and preferences. Many professionals have more than one tool belt for use in different situations. A tool belt may be the better choice for small jobs that do not require many tools or much time, while a belt-free system may be more comfortable for lengthy and labor intensive projects such as home construction. If a traditional tool belt causes you pain or discomfort, or you find yourself in need of more storage compartments than is afforded by a tool belt, you may benefit from trying a belt free tool system.
About the Author: Maria Polidoro is the Founder of Ace Tool Online, an authorized distributor of hand and power tools from virtually all major power tool manufacturers and a provider of Occidental leather products including beltless tool systems.