Woodworking 101
by Guest Post on Feb 3, 2011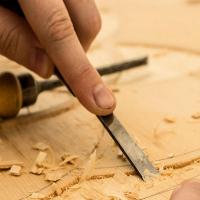 I recently heard about a guy who left his stressful position at a major bank to become a carpenter. While dramatic, his move from derivatives to driver bits makes sense to me. The financial industry is unstable; he has a daughter who could use more daddy time… And well, from the sound of it, woodworking just simply makes him happy. He now makes his living creating high-end wood furniture in his garage, using a few simple tools and his ingenuity.

In these high-tech, high-stress times, it's easy to understand the resurgence in recreational woodworking. From the smell and texture of the wood to the sense of accomplishment that comes with working with your own two hands, Woodworking provides a creative outlet that is satisfyingly visceral. And while most hobbies drain your bank account, woodworking is that rare leisure activity that can actually create value.

If you are considering woodworking as a hobby, there are a few tools and resources that you will need. Start with a solid workbench and measuring tools such as a combination square and simple tape measure. Important electric power tools include the circular saw for straight cuts (a fence guard can improve the saw's accuracy) and a jig saw for cutting curves. After making the cuts, you will need to shape the wood using either a block plane or router. A standard cordless drill will come in handy and you will also want to have some sturdy clamps and project glue on hand.

As you become more experienced, you may choose to invest in Woodworking machines, which offer more power and precision. Lastly, you will need the essential safety gear, such as glasses, ear protection, and a face mask for eliminating fine dust particles. The web and your local bookstore offer the best project guides and a place to trade ideas with other woodworkers. There are many resources out there, but Popular Mechanics and Fine Woodworking both offer useful guides for beginners.