Seven Things to Get When Remodeling Your Kitchen
by Guest Post on Sep 20, 2018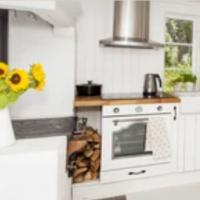 If you're a homeowner, there's probably going to come a time when you want to remodel parts of your home. Maybe the things you have in it are out of date, or maybe you're just tired of the way it looks. Whatever the reason, when the time comes, you'll know it. To help you get started, here are seven things you can consider adding to your kitchen during a remodel to help turn it into a room that you love. 
A Coat of Paint
First, one of the biggest yet simplest changes you can make during a kitchen remodeling job is painting the room a new color. Over time the paint on our walls becomes faded, or it no longer matches the décor we have added to the room. Simply applying a new coat of paint can make a large difference to any room, but especially for a room like a kitchen that you spend a lot of time in. For help picking out a new paint color for your kitchen, try this guide. 
New Countertops
Next, consider redoing the counters in your kitchen. Kitchen counters are one of those things that we stop noticing after a while, as they just become part of the room. However, when you make the change to a new countertop, you realize how out of date or unstylish your previous tops were. Look for some pictures of modern kitchen countertops online and see some of the possibilities that exist for your kitchen. 
New Cabinets
Along with the countertops, you can also get new cabinets. If your cabinets are breaking down, or the outsides don't look that great, it's probably time for an upgrade. Installing new cabinets can not only make your kitchen look better but give you more storage space. For those of you who have cabinets that are in decent shape, you can just change the outside of them for a new look and cut back on the costs. 
Change the Lighting
The lights in your kitchen play a large role in determining the mood of the room. If you still have the lights that came with the home when you moved in, the light may be too bright or not bright enough to suit your needs. Some simple changes could include using a different type of bulb, installing a dimmer switch, or even installing new light fixtures altogether for a completely different look. 
Consider Your Floors
Now that you've taken care of the walls, the ceiling, and the other basic components of the kitchen, the last major thing to consider is the floors. You'll want floors that match the other decisions you've made for your kitchen and something that is durable. Here are some great examples of kitchen floor ideas to get you started. 
Replace Your Old Appliances
With the major projects taken care of, now you can focus on some of the smaller details. The first one to consider is the appliances in your kitchen. How old is your refrigerator? Does the dishwasher run well? Does everything match your new countertops or floor tiles? A kitchen remodel is the perfect time to consider getting new appliances if you need them. It's much easier to install these large pieces while everything is being moved and torn up anyway, so think about which of your pieces are out of date, and then start shopping for some newer models. 
Other Kitchen Gadgets
Finally, since you're getting a new kitchen, you might as well get some new kitchen gadgets. Maybe you could install some smart lights, so you can control the lights from another room. Or maybe you want to get a voice home assistant, like Google Home or Amazon Echo, to help read your recipes or track your shopping list. There are many gadgets out there these days that aim to make your life a little easier. You're bringing your kitchen up to modern times, so get the technology that goes along with it. 
Plan Out the Entire Remodel Beforehand
It's much easier to do your entire kitchen remodel all at once, rather than a piece at a time. This obviously isn't possible due to financial reasons for many, but if you can swing it, it's the best way to go. So think about all of the things you want to do for your kitchen, then come up with a complete plan. The above list will hopefully serve as a jumping-off point, and before long you'll have an entirely new kitchen that you look forward to spending time in each day. Good luck!