3 Ways to Deal With a Popcorn Ceiling
by Jason Tilton on Jul 28, 2017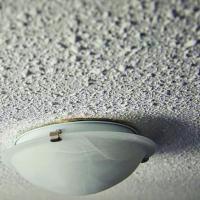 There's no interior finish more universally maligned than the dreaded popcorn ceiling. If you've ever laid eyes on one of a thousand DIY home improvement HGTV shows, you'll know the first thing new homeowners do is go to great lengths to strip, scrape, mask, and disguise this particular dated ceiling treatment from hell.
Popcorn ceilings are the unsightly, asbestos-riddled design fad of yesteryear that people thought improved acoustic performance and acted to hide cracks or blemishes that could otherwise plague your untreated ceiling. Well, I think we can all agree on how wrong they were. The question remains: how in the world do I begin to deal with this infestation that is hurting my eyes and lowering my quality of life?
You're in luck! There are plenty of effective and low-cost ways of dealing with a popcorn ceiling. Here are 3 such projects that will help take your home into the next century of ceiling design.
1. Mud and Smooth
This is the option that requires the least amount of work and money but is more of a temporary fix until you have the gusto to instill a more permanent solution. The quickest way to rid your life of popcorn ceiling is to go to Home Depot, get a pre-mixed plaster mud compound, and go to work. You're going to want to apply slowly and make sure you aren't dripping white, paste-y concealer all over your floor and furniture.
Once you let the compound dry, you're likely going to have to do a hefty amount of sanding and smoothing. If you don't have experience doing something like this, it will probably take a few passes to get things looking better than they did before you started. Keep at it, or hire a professional to take care of the mess for you.
2. Removal and Repair
Popcorn ceilings are nothing more than a plaster-type compound that was sprayed over your ceilings by a mechanical blower. It is applied over the drywall or plaster and with enough elbow grease (and patience) can be stripped off with any off-the-shelf metal paint scraper. Be warned, this is no easy task and can end up being quite a mess if you don't prep space ahead of time. Treat it as if you were re-painting the walls and set up plastic over the entire floor surface and even a bit up the walls.
Taking the time to prep makes for an easy clean-up, which takes a bit of the unpleasantness out of the whole process. After the popcorn is removed, you'll be left with a ceiling that will likely need to be either patched and painted or completely redone depending on the shape of the drywall underneath.
3. Install Coffered Ceiling
Coffered ceiling won't only add a warm, inviting architectural feature to your home, they can be installed directly over the popcorn ceiling without the need to scrape them clean. Coffered ceilings offer more than just aesthetic improvements, as they can make the interior of your home much more acoustically hospitable by reducing echoing and increasing dispersion.
Installing coffered ceilings will probably require a professional's help (unless you happen to be one yourself). It requires skill and experience to make sure the installation remains beautiful and maintenance-free for years to come. This isn't the cheapest option on the list, but it is the best and will add a tremendous amount of value to your home should you decide to replace those popcorn ceilings with something a little bit more classy.
Hopefully, these three options give you the confidence you need to move forward with your popcorn ceiling removal. Once the transformation is complete, you'll let go of a giant sigh of relief every time someone pauses and decides to look up.