Wall Cladding for the Home of Your Dreams
by Guest Post on Mar 25, 2013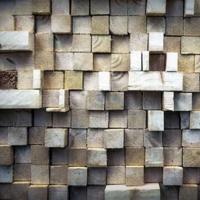 Everyone wishes to own a house of their dreams; a home that is designed as per their tastes and choices. When one goes house hunting, they conjure up the perfect idea of what their home should look like. They choose the most luxurious of colors that are like silk to the touch. They bedeck the different corners of their home with gorgeously fragrant flowers that cast an engaging spell on anyone who steps into their abode.
Amidst all the scuttling for the right decor for your dream home, you may just fail to recognize just how important wall cladding is for your home. This cladding not only provides durability, but it also takes the aesthetics of the homes a notch higher. Often it so happens that one is so busy trying to figure out the perfect lace curtains to match the royal aqua walls or trying to pick the perfect piece of furniture that would match the wallpapers that one completely neglects the importance of the perfect cladding for homes- both interior and exterior.
Here are some options listed below on how wall cladding could benefit your decor:
There are several materials that find their way into cladding for the walls; the most popular being metal. Metals are very flexible in nature and they are available in a plethora of colors and their alloys like copper and brass make for attractive cladding.
Aluminum is one metal that is every architect's best friend. This metal has an extremely flexible nature and can be used in a variety of applications, cladding being one of them. It is sturdy and durable and is considered a notch better than any other metal. Copper is also an effective option for beautiful and artistic carving. 
Another attractive option is masonry. Beautifully carved stones and bricks raise the aesthetic level of the entire structure. They give a very medieval feel to it while still retaining a dash of modernity. These can be furnished with different colors ranging from deep greys to rich browns and reds to lift the colors and bring the home to life. Stone, as everyone knows, is a very durable material. It is sturdy and tough. Being light in weight is an added advantage.  Although there is no doubt about its quality when it comes to strength, sometimes depending on the material, water often seeps through them making it highly inconvenient. In a worst-case scenario, the water could penetrate the stones and reach out to the surface of the wood that shapes these stones leading to the rotting of the wood if proper care is not taken. Masonry is a risky option and should only be used if you can dedicate your full attention to these beauties.
Fiber cement is another type of wall cladding used for interior cladding. The basic contents that find their way into this fiber cement are cement, ground sand, cellulose fiber, and water. It gives a very traditional feel to the cladding and makes it look ancient and attractive. It defiantly fights against insects, moisture, and fire and does not let any of this mess with the cladding and the overall beauty of your home.
Areas that are in constant contact with water like toilets and bathrooms can use laminate cladding. These are more durable as compared to ceramic tiles and can easily withstand moisture from these areas. It is long-lasting and does not fade easily. This makes for a very clean bathroom area. Plywood can also be used in the interiors as it has an attractive finish and is very well equipped with long-lasting properties. With so many options to choose from, you can take the aesthetic level of your home a step closer to impeccable.