Top 10 Mobile Home Skirting Ideas You Should Know
by Ray Winters on Jul 27, 2019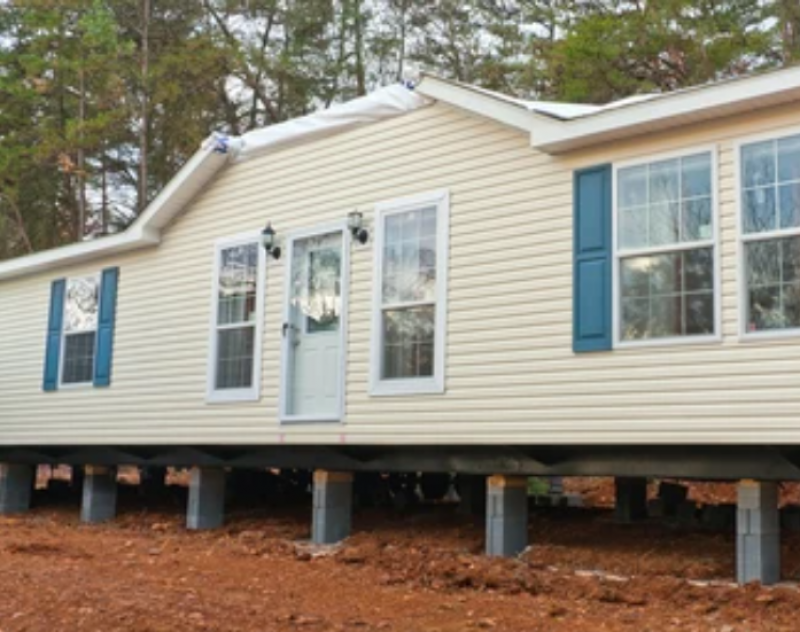 When considering mobile home skirting ideas, it's crucial that you choose on a product and material that enhances the curbside appeal and delivers protection. As you research about pricing, installation, and appearance, you are likely to discover numerous manufactured home skirting ideas that seem like a perfect fit. But the reality is that the right skirting for one homeowner may not serve your needs. That being said, the explanations of the following 10 mobile home skirting ideas may prove helpful in making an informed decision.
1: What To Know About Vinyl Skirting
Vinyl skirting continues to rank as the most popular skirting option because it tends to check the necessity boxes. It is widely viewed as easy to install, resists mold and mildew, enjoys longevity, and many mobile homeowners can make minor repairs themselves. Vinyl skirting products also enjoy color and style options that can enhance the exterior. Along with vertical lines, vinyl faux brick ranks among the top trending mobile home skirting ideas.
2: What To Know About Reil Rock
Reil Rock consistently ranks among the top manufactured home skirting ideas because it is a cost-effective and attractive option. These often faux stone panels are constructed from heavy-duty plastic and are considered stronger than vinyl. Among the more aesthetically pleasing options, sandstone delivers a classic foundation appearance.
3: What You Should Know About Metal Skirting
One of the driving reasons people select metal skirting for their mobile home is durability. These products are commonly manufactured from materials such as aluminum, galvanized steel, or tin, among others. In terms of exterior appeal, metal has made significant gains. Today's products enjoy imprinted designs, color choices, and homeowners can now select specialty options.
4: What You Should Know About  Concrete and Stucco Skirting
Concrete and stucco may not be rank high among your initial mobile home skirting ideas, but they deliver benefits. Chief among the reasons that everyday people opt for this class of skirting is that they provide hidden ventilation. The underside of a manufactured home requires proper ventilation. These skirting panels can make the vents almost invisible and give you a seamless aesthetic.
5: What You Should Know About Brick and Cinder Block Skirting
Utilizing bricks or cinder blocks to skirt your mobile home does not necessarily mean building a permanent foundation. One of the terrific things about mobile homes is that they are, well, mobile. Cinder block and brick do not necessarily have to be secured with mortar. These materials can be stacked to fit. The upside is enhanced durability, and real brick looks fantastic.
6: What You Should Know About Fiber Cement Skirting
This class of skirting offers a seamless extension of the exterior that runs from the mobile home to the ground. Many of the brands offer excellent warranties. In terms of curbside appeal, fiber skirting can deliver a two-tone appearance similar to classic historic homes.
7: What You Should Know About Lattice Skirting
Often comprised of wood or vinyl, lattice skirting maximizes airflow under a mobile home. This option ranks among the best manufactured home skirting ideas if you live in an area with high humidity and moisture. Although many homeowners opt for the classic white, lattice skirting comes in a wide range of colors.
8: What You Should Know About Cold Weather Skirting Protection
When running through a checklist of appealing manufactured home skirting ideas, it's crucial to account for the weather in your area. Cold weather regions and those that experience seasonally frigid winters often require insulated skirting. Insulation delivers protection against frozen water lines and reduces energy and heat loss.
9: What You Should Know About Warm Weather Skirting Protection
For homeowners living in traditionally warm weather regions such as Southern California, the Southwest, and Southern states, lattice may rank among the best skirting choices. Airflow under the manufactured home tends to minimize heat buildup and limit condensation. Heat plus water can equal mold and mildew. Lattice delivers protection on these fronts.
10: What You Should Know About All-Season Skirting Protection
Homeowners living in areas that experience all four seasons are tasked with utilizing weather-flexible skirting. The key is often selecting skirting with appropriate ventilation panels that can be opened and closed when necessary. Skirting is a blend of enhanced appearance and protection from the elements. Take the time to speak with an experienced skirting professional about your unique ventilation needs.
Among the leading manufactured home brands on the market today, are designed to accommodate skirting options that deliver the appearance and protection homeowners deserve. While considering these and other manufactured home skirting ideas is an excellent first step, it's essential to speak with an industry professional before making a final decision.