Give Your Living Room a Complete Overhaul
by Guest Post on Nov 1, 2011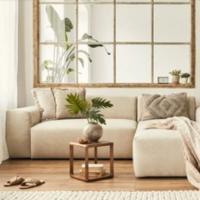 If you see yourself as a bit of a DIY whiz, you might want to put those skills to good use in your living room.
With autumn here and winter just around the corner, you're likely to be spending even more time in your house. It's a perfect time then to do some work on your lounge to get it looking swanky and comfortable in time for the arrival of the cold weather.
Whether you choose to wallpaper your room or paint it, you'll need to do plenty of preparations first. If there's already wallpaper in the space, you'll have to strip it off completely – use a steam-powered stripper if you've got a large area to cover. The paint should be removed if possible too – you want to start afresh.
There's a risk that once this is done, you may find there are some little nooks and crannies which could do with smoothing out. If that's the case, you'll need to get some filler and get to work on the surfaces, so you've got a great base to put your paint or wallpaper over.
The next thing you'll need to decide on is flooring. Some people may prefer to have carpet underfoot, while others are likely to prefer wood or laminate flooring. If you go for wood, it's worth checking first whether you've got floorboards that can be refurbished and treated, or whether you'll have to just fit something from scratch.
Real wooden flooring can add some real glamour and value to a living room, so it's probably a worthwhile task to redo floorboards if you're lucky enough to have them there already.
Once the walls and flooring are done, you can get started on deciding what furniture to have there. A sofa can look a bit sparse on its own, so it's a good idea to have some cabinets and perhaps a coffee table in the room too so it has a few different focal features. Something worth bearing in mind is that a fabric sofa can look particularly stylish alongside real wooden floors.