Outstanding Features of Front Load Washers
by Guest Post on Sep 29, 2011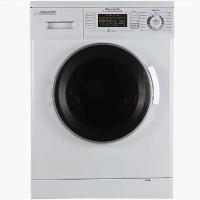 When contemplating the purchase of high-efficiency front load washers, there are many factors to consider. Look for a model that provides superior cleaning. Most models do well in that area compared to top loading machines. Fabrics are gently lifted and tossed through the detergent and water allowing deeper cleaning. This lifting action in front load washers reduces the friction normally associated with a typical top load machine's agitator. The agitators tend to move fabrics up to and down and back and forth to wash the clothing. Front loading washers use gravity and a fast spinning speed to wash the clothing. Some front load washers have a spin option that keeps clothes fresher for up to 6 hours in the washer drum. There are front load washers that are built using commercial-grade components which will wear much longer and which will require less repair expense. Be sure to check the manufacturer's warranty information to see what is covered in case of a breakdown or malfunction. Some models have porcelain-coated drums and some have stainless steel interiors. Typically, front load washers have cavernous drum capacity which allows for large loads of thick towels or even pillows or blankets. If the local laundromat has been the go-to place to wash these heavy and bulky items, then having a front loading machine at home would be an ideal solution. Front load washers allow easy access for large loads or awkward or bulky items, with their wide doors and deep wash baskets.
Each make of washer will have its own unique set of functions, making finding the right one an easy task. Most have front panel controls that vary from knobs that turn, to touchpad technology, and offer many different functions to meet a variety of needs. Front load washers offer things such as rinse and hold, sanitize, heavy-duty, or other special cycles. There are settings that tumble slowly for delicate lingerie fabrics or faster for heavily soiled jeans.
Consider a model that has cycles that slowly soak or that have a fast wash setting.
Most front load washers are Energy Star rated to save energy and help the utility budget. These front loading machines can use up to 60% less water, which in itself is a good conservation measure. In addition, front load washers tend to spin more water out of the clothing, allowing for a shorter amount of time in the dryer. This produces a huge energy saving and prolongs the life of the clothing.
Look for a smooth interior that will protect the finish of sweaters, knits, and fine fabrics. Also, keep in mind that the taller models are easier to peek into during the wash cycle. Some front load washers come with an optional drawer or base that gives added height and allows for handy storage of frequently used laundry products. Making sure the washer is installed and leveled properly on a solid floor will ensure smooth, quiet operation. All in all, front load washers are a good solution for many households and should be considered when replacing an old washing machine.