Carpet Cleaning Advice: 3x Tips to Remove Common Carpet Stains at Home
by Paul Laing on Jul 27, 2019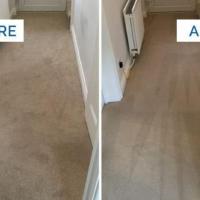 Carpets can be a great flooring choice. However, no matter how much you try to prevent it, stains will occur at some point. Luckily, there are plenty of ways to remove stains that can occur on your carpet relatively easily. Below, we will be going over 3 tips to remove common carpet stains in your home. 
1. Remove Any Excess Liquid As Soon As Possible
One of the key things that you want to keep in mind when you are dealing with any kind of stain is to act quickly. By acting quickly, you should be able to maximise your chances of successfully getting rid of the stain.
You should work to blot all of the excess liquid that exists on your carpet to ensure that more of it doesn't sink in if you are dealing with something like a wine or juice stain. You might even want to use a knife to scrape up some of the excess solids, as well. Without acting quickly, you risk having the stains set in which can make it even more difficult to get rid of.
2. Don't Rub
One of the biggest cleaning mistakes that people make when they are looking to prevent a spill from turning into a stain is rubbing their carpet. Rubbing or scrubbing your carpet is only going to increase the likelihood that you end up with a big stain when you are done.
Instead, you should be looking to blot the stain away with something that can absorb the stain. Ideally, you want to use some sort of absorbent cloth in order to blot the stain to get rid of it. You should continue to blot until you're no longer getting anything absorbing into the cloth. 
3. Use a Mixture of White Vinegar, Salt and Water
You should be looking to use natural mixtures of white vinegar diluted with water and salt. By using a mixture like this, you will be able to have something that is going to help strip the stain out of the fabric safely.
There are specific carpet stain removers that you can find on the market being sold at retailers but you will always want to test it on a small patch of your carpet before committing to using it on the stain. As some of them might damage your carpets. Vinegar in an alternative, it should help to get rid of some common stains like coffee spills.
4. Professional Carpet Cleaning Company. 
If you find that none of your DIY efforts pay off when it comes to removing your stains, you will want to call on a professional carpet cleaning company. Regardless, you should be investing in professional carpet cleaning anyway because it can end up helping to improve the overall look and feel of your carpets and it can help to contribute to enhancing the air quality throughout your entire home.
With dirty and uncleaned carpets, you risk exposing your entire household to contaminants and all kinds of air pollutants that would be best avoided.
In Summary 
Overall, there are plenty of different ways to effectively remove carpet stains that you might be dealing with. The key is knowing that you can't rub the excess liquid or solid into the carpet because it is only going to make things worse.
Scrubbing will get you nowhere when it comes to removing stains from carpets. Therefore, to maximise your chances of preventing the stain from setting in for good, you should look to absorb the excess liquid or solid with a cloth and continue to blot with the cloth until nothing transfers.
If you can't prevent the stain or get rid of the stain on your own, you should look to hire a professional carpet cleaner as they will have the experience and equipment to get the job done.