Why French Door Refrigerators Should Be In Every New Kitchen
by Guest Post on Mar 29, 2011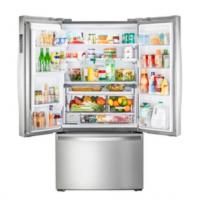 French door refrigerators have made a huge impact on the appliance world since their introduction in the late '90s, and with so many homeowners choosing to update their kitchens, more and more side-by-sides will disappear and French door refrigerators appear in their place. Whether you're thinking of remodeling your kitchen, or are up to your knees in cabinet finishes and paint chips already, choosing appliances that match the quality and style of your new kitchen can be a challenging task. However, the choice of a refrigerator should be easy. Here's why French door refrigerators should be the refrigerator of choice in your new kitchen.
Your kitchen remodels may consist of swapping out the cabinets and repainting, or be a complete design overhaul. Either way, your efforts can be completely undermined by dated, mismatched appliances. The refrigerator is an inherently large kitchen requirement, towering over many a visitor who can't help but see it. Therefore, one of the biggest factors in your choice of refrigerator needs to be its looks. You may not be inherently vain, but when it comes to the outcome of your remodel, an ugly fridge can spoil even the shiniest granite countertops. The number one reason French door refrigerators are new kitchen requirements is their classic good looks.
You already know French doors are a classy addition to your home, and the same can be said for your kitchen. French door refrigerators combine the traditional familiarity of a single-door refrigerator while greatly improving the side-by-side design. You don't need to worry about French door refrigerators going out of style anytime soon; especially when you choose one in stainless steel. Of course, manufacturers provide a variety of colors, all of which will add tastefully to the theme of your new kitchen.
While most objects of beauty require no purpose to be admired, the same cannot be said for an appliance, particularly a refrigerator. Where there's form, there must also be a function. Thankfully, French door refrigerators are just as useful as they are stylish, which is the second reason French door refrigerators should be in every new kitchen. Like a new car, something with a deceptively large amount of interior space is a pleasant surprise. While average French door refrigerators take up about as much space as a standard fridge, the inside is a spacious and intelligently arranged collection of shelving, compartments, and drawers that can hold more than you thought. This well thought out design means to access and storage of food is uncomplicated and efficient; the same can be said for the French door refrigerator's lower single-door freezer with its multi-level drawers. Plus, many models come with built-in purified water and ice dispensers, so your old filter pitcher can go the way side-by-side.
The best thing about French door refrigerators, unlike most other magazine-worthy, stainless steel models, is that all of this good taste has a surprisingly affordable price tag. If you went overboard on the countertops or saved unexpectedly on the sink, French door refrigerators are still the perfect appliance choice when you need style and storage for six servings of leftover spaghetti.